How to Land Any Non-Clinical Job Using LinkedIn – Masterclass
This Masterclass is for you if you're a doctor who is actively seeking non-clinical / industry roles and/or developing a desirable personal brand profile.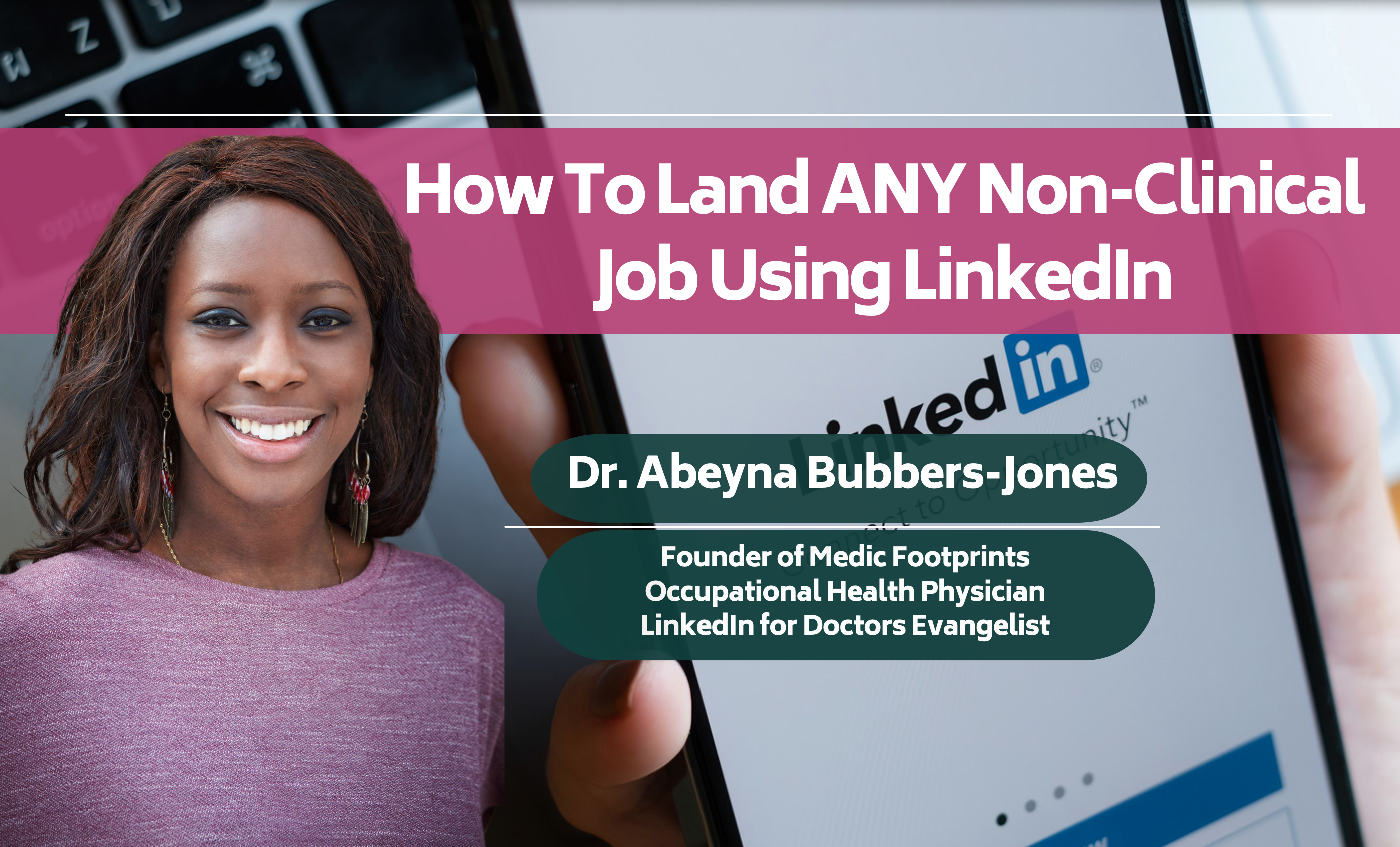 When you learn how to use Linkedin to land a non-clinical opportunity:
The BEST non-advertised opportunities come to YOU
You save on precious time
You move to your dream career FASTER
72% of recruiters use LinkedIn to find new doctor talent.
Yet there are relatively few doctors using this platform to find alternative careers.
Having mentored thousands of doctors in career change, we see the same mistakes time and time again.
Wanting a non-clinical / health tech / pharma / consulting career, but not on or using LinkedIn to do this
Not wanting to put themselves 'out there' in fear of people finding out
Using LinkedIn, but not getting noticed
Spending more money on a LinkedIn subscription without substantial returns
Scared of reaching out to anyone on LinkedIn in fear of 'bothering' them
Applying for hundreds of jobs, but not getting a single interview (whether VIA LinkedIn or not).
We're committed to help you to avoid these mistakes and leverage LinkedIn to YOUR benefit. This feeds into our mission of connecting 1 million doctors with the best in diverse careers.
Who is this Masterclass for?
This Masterclass is for you if you're a doctor who is actively seeking non-clinical / industry roles and/or developing a desirable personal brand profile.
We want to help doctors like you translate these opportunities into an impactful WELL PAID CAREER you LOVE.
This is especially for you if you want to stand out from the crowd of doctors searching for alternative careers and make the platform work for you. (Not the other way round!)
What will you learn from this LinkedIn Masterclass?
Overview of KEY areas of LinkedIn EVERY doctor should focus on
Effective LinkedIn networking strategies which can be used for ANY career opportunity
"How they did it." How other doctors used LinkedIn to uncover opportunities and get paid what they want.
What doctors have achieved working with us
Nina, a Medical Consultant started getting approached for new opportunities after she invested more time in certain areas on her profile. This includes several health tech companies and big pharma. Many of these opportunities were not directly advertised.
Max, a Junior Doctor, gained confidence in his messaging when reaching out to potential employers online resulting in 4 face to face interviews and eventually a Clinical Manager job in a health tech company.
Hafisa, a GP, grew her brand profile to build relationships with potential clients when she was starting her new independent consulting business. This gave her the confidence to charge what she wanted and found they were able to appreciate the value in her services.
Speakers
Dr. Abeyna Bubbers-Jones
Founder of Medic Footprints, LinkedIn for Doctors Evangelist
Consultant Occupational Health Physician
Dr. Ola Abbas
Chief Growth Officer @ Medic Footprints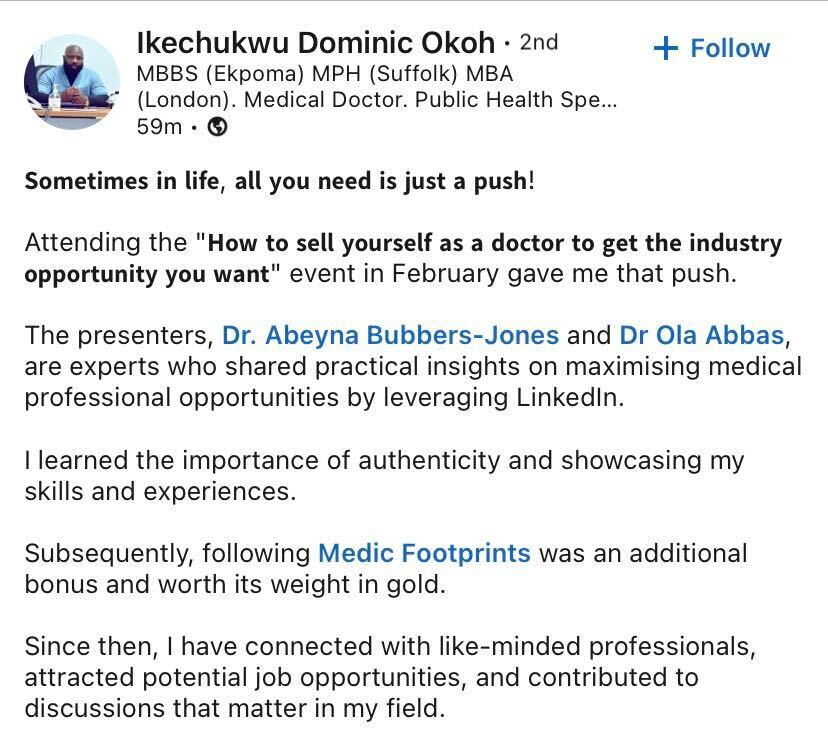 Investment:
Your investment fee supports us to continue as a doctor-led independent organisation on a mission to connect 1 million doctors with the BEST in diverse careers! Thank you!
This event is exclusively designed for doctors interested in exploring or embarking on a career in independent consulting, however anyone is welcome to register.
£149 Non-Members – get a 28 day access to the recording
£99 – MF Premium Members and get access to the duration of your membership. Purchase it here
Doctors In Industry Incubator Fellows get complimentary access – please visit: How to Land ANY Non-Clinical Opportunity you Want
The following two tabs change content below.


Latest posts by Lean - MF Admin Team (see all)