How to get into Pharma as a Doctor in 2023 Masterclass
Insider information on how you can land a job in Pharma as a doctor.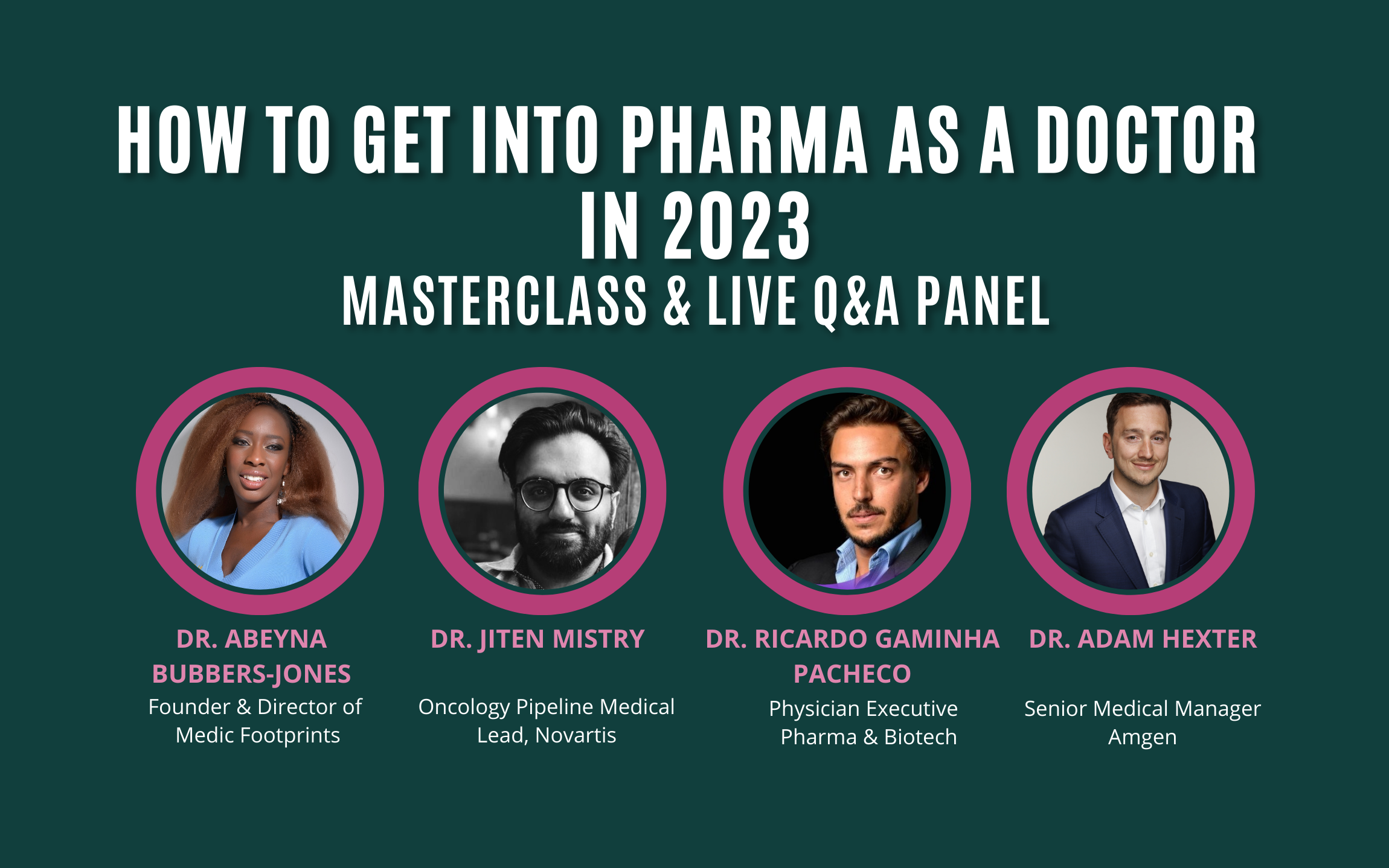 Are you a doctor SERIOUS about moving into Pharma this year?
Pharma is one of the most sought out careers for doctors looking for alternative careers, and probably one of the tough ones to get into due to the roles requirements and the high competition.
But we see doctors struggle with the same things in their journey to get into the industry which can take YEARS.
The reason behind this isn't that most doctors aren't good enough to develop a career in Pharma.
It's a lack of mentorship, guidance, network and preparation in getting there.
Therefore we've lined up an excitingly diverse panel of highly experienced doctors currently working in the Pharma industry, who have:
tackled that career gauntlet themselves,
developed a breadth of experience in the sector and
have mentored other doctors in developing their pharma careers
Between them, they've worked or currently working at: Roche, Novartis, AstraZeneca, Kymab, Schering, Takeda and more..!
So we prescribe:
This Pharma Roundtable where you will hear about our panelists career journeys and unique insights into working in the industry alongside learning:
What breadth of opportunities for doctors are available in the wider pharma sector
How to position yourself as a prime candidate that recruiters and hiring managers couldn't refuse
Top tips on nailing those applications and interviews
How to prepare yourself for developing a flourishing career as a Pharmaceutical Medicine doctor
What it's like to train in Pharmaceutical Medicine
So if you're one of those doctors at the beginning of a journey to pharma (or if you know a colleague who is)…let us help save you as much hassle and time as possible!
Who is this masterclass for?
This Panel is aimed at doctors who are actively looking to move to a career in Pharmaceutical Medicine in 2023.
.. and get ahead of the competition!
Panelists
Dr. Jiten Mistry
Oncology Pipeline Medical Lead, Novartis
Dr. Ricardo Gaminha Pacheco
Physician Executive – Pharma and Biotech
Dr. Adam Hexter
Senior Medical Manager – Amgen
Dr. Abeyna Bubbers-Jones
Panel Chair
Founder & Director of Medic Footprints
Investment:
£149 Non-Members – get a 90 day access of the recording
£99 – MF Premium Members and get access to the duration of your membership. Purchase it here
Doctors In Industry Incubator Fellows get complimentary access – please visit How to get into Pharma as a Doctor in 2023
The following two tabs change content below.


Latest posts by Lean - MF Admin Team (see all)