A day in the life of an ICU doctor
Guest blogger Dr Jenny Abthorpe, anaesthetic doctor at Kings College, shares her reflective journal on working on the frontline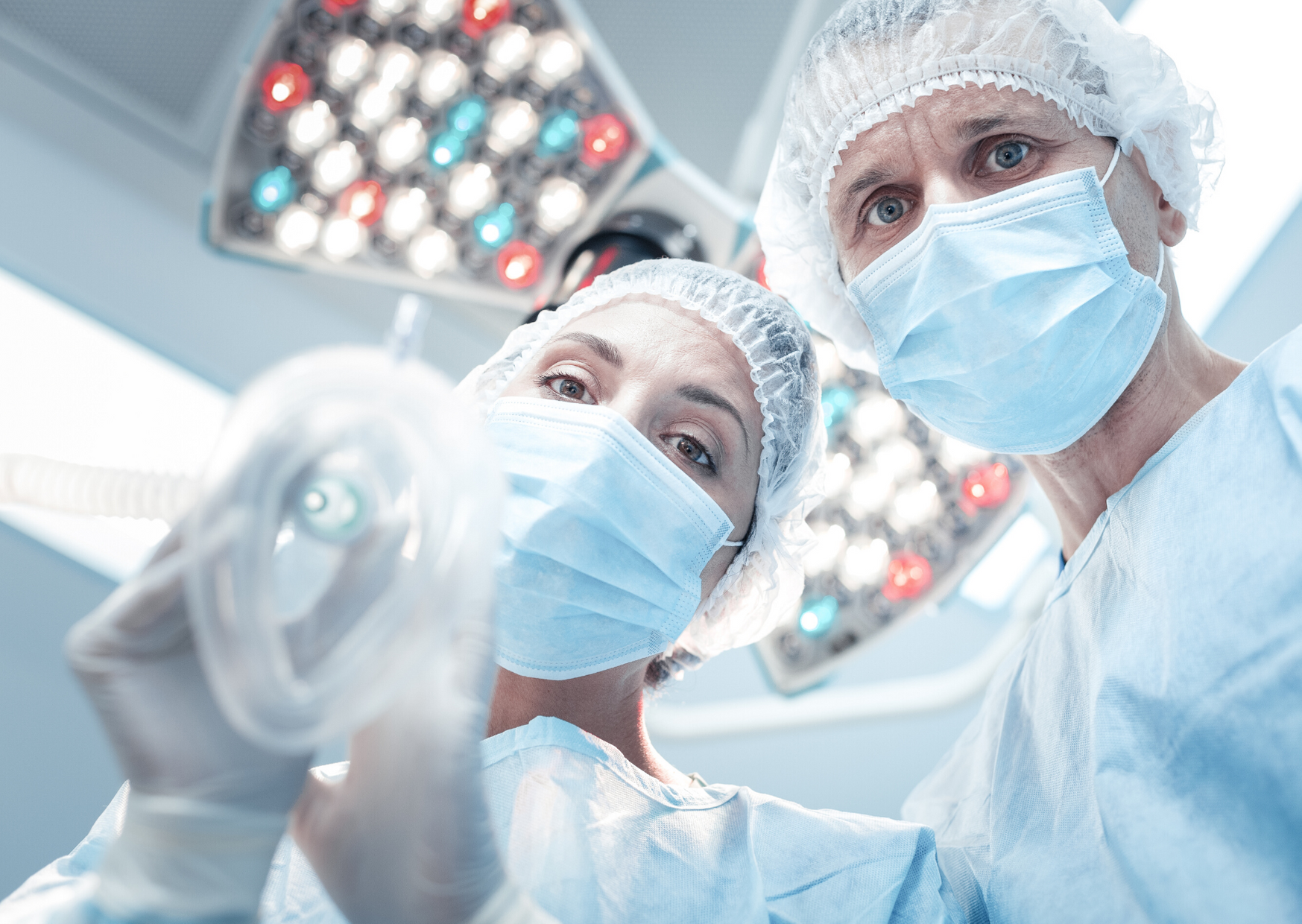 A day in the life of an ICU doctor
Journal entries:
4th May 2020
Today I went to work.
Sat on the train into London, watching the scenery rush past on a beautiful early Spring morning.
Pondering on the previous week's events when I had experienced a moment of real closure which had started a slow healing process for me.
I had been on-call for ED, the outward facing bleep for ICU. Not much was happening in ED in the early morning so I was assisting the Outreach team. I was delegated to go and review a patient who had stepped down from ICU. He had a tracheostomy and needed a review as to whether it could be removed. To my delight, it was the patient I had intubated on the ICU almost a month to the day. The one I had urged to "do well". It was one of those moments that is meant to be.
I arrived on his ward and went to say hello. As I approached his bed, I felt a rush of emotion. He looked fantastic! He looked quizzically at me but smiled with equal delight as I explained who I was.
I told him that it meant a lot for me to see him. I delivered the good news that I felt it was the right time to remove his tracheostomy. He was understandingly nervous but after explanation and reassurance, I removed it.
Afterwards we chatted for a good while. He told me about his experience. His memories of his ICU stay (thankfully very little), his fears, his dreams for the future and his hope that he finally would make it home. He still refused to FaceTime or phone his son as he didn't want to get anyone's hopes up. But he had been texting. He said he would FaceTime the day he got home.
He was so grateful. We gave each other a hug. Both needing it as much as each other. And then I said goodbye and good luck. Leaving him in the care of his fantastic ward team. We had gone full circle and come out the other side.
Today it was business as usual. We have many patients doing well, some are a bit static but there are some truly miraculous recoveries. Patients that have defied all odds. We still have new admissions coming in with Covid-19 but these are low numbers and we feel we know our adversary better now.
The expanded ICUs are being decompressed and cleaned. Re-deployed staff are being moved back into their base specialties…hopefully inspired by their brief stint in ICU. I could never have predicted the incredible collaboration, teamwork and solidarity displayed by all specialties towards our ICU team. Long may it continue 😉 We are so grateful to all of them. True heroes.
Now it's time to try and focus on our own recovery. As the pace slows, emotions start to surface. Images of lines of ventilated patients are not easily forgotten. Nor the countless breaking bad news phone-calls. Or patients reviewed and intubated in ED. Or the losses.
But the healing has begun. So I will sign off from my diary entries. And say thank you to all those who have read them. I'm very grateful for every "like" and/or comment that has been posted. It has meant a lot and been a great support.
This one is dedicated to all those ICU doctors out there ❤️🌈

19th April 2020
This week I completed a 2nd set of night shifts. My 2nd in 2 weeks. My first two nights shifts were locum shifts covering for colleagues off sick, providing senior cover on some of the main ICUs. My second two night shifts were covering the outward facing bleep taking emergency referrals from ED.
My goodness what a difference a week makes.
This week, there was a noticeable drop in numbers of Covid-19 patients presenting to our hospital and a significant downtrend in those needing ICU although there still are patients being admitted. ED was scarily quiet.
I reflect on my night shift on Tuesday 7th of April, one of the worst I have ever done, marked forever in my mind. There was a point that night that I had a moment of panic, thinking that if things got much worse, we would not be able to cope. In hindsight, what we were experiencing that week was the peak of the pandemic. And we coped and got through it.
Between 27th Feb to 15th April, a six week timeframe, my hospital had dealt with just under 2000 Covid-19 admissions. 243 admitted to critical care beds (not all of these to the ICUs). 1210 patients have been discharged alive, 64 from critical care. Phenomenal numbers.
My first night was on my usual base unit. It has been receiving Covid-19 patients since day one of the pandemic. Staffed by battle-fatigued nurses and doctors, still deep in the fight against Covid-19. Morale remains high but it is clear that the past 5 weeks have taken its toll on everyone. Particularly as we are now caring for more healthcare workers, struck down in the line of duty. It is incredibly sobering.
After handover, we allocate patients and get to work. Reviewing and assessing each patient to ensure they have a smooth night and that they are reaching the daily targets set by the day team.
But nothing goes as planned.
Covid-19 is an unpredictable disease but does seem to have a temporal element. Late afternoon and the night are common times for patients to deteriorate usually coinciding with high spikes in fever. In a few cases, even as high as 42C.
With the spike in temperature, oxygen consumption/demand dramatically rises, but is unable to matched by its delivery through damaged and inflamed lungs, and manifests as significant desaturation. A number of patients require proning to improve oxygen delivery, a procedure that is high risk and labour intensive particularly at night. In other patients, proning does not work, and all we can do is support their organs, aggressively cool them and hope they can ride it out. If they become refractory to all oxygenation therapies, the final therapy is ECMO. Sadly many patients are not candidates for ECMO due to a variety of appropriate reasons.
There are many other reasons why patients may deteriorate, so we need to work quickly through a list of differential diagnoses. Thinking about the usual ICU culprits but also the nuances of Covid-19 infection. Whilst it is a devastating illness, it is also fascinating and unlike anything I have dealt with before.
Approximately a third of patients on the unit are doing well, gradually improving with a glimmer of hope that they will beat this terrible disease and leave the ICU.
Another third seem stuck. Still on mechanical ventilatory support. Still requiring kidney support and sometimes blood pressure support. And on a decent percentage of inspired oxygen. We can only hope that all these patients need is time.
And the final third are not doing well. On high amounts of organ support. Some on the maximum amount of oxygen we can deliver, but still they hold on. Everyone willing them to keep fighting and praying they turn the corner. It is a worrying time for us but utterly heartbreaking for the families. The only contact they get is daily updates via phone and online e-visiting via iPads.
At around 11pm, I phone a patient's wife. He is only in his early 30's and has 2 young children. His wife is understandably incredibly anxious and has already phoned the unit a number of times tonight. My heart reaches out to her. So I phone her, hoping to provide some comfort and reassurance. We chat for around 20 minutes. She is on her own having sent her children away to a relative. She can't eat or sleep. She is living a recurring nightmare. There is very little I can say to reassure her other than we won't give up on him. That we will continue to give our all to get him through this. He is one of the sickest patients on our unit. His body almost overwhelmed by the virus. But he is holding on. I can't give her false hope, but I can give her some hope. I tell her to try and rest. That I will call her if I am concerned. It is all I can do.
The rest of the night is spent troubleshooting ventilatory issues, tweaking medication, adjusting targets and ensuring each patient is stable for handover the next morning. I even manage a bit of teaching on ventilators for my junior colleagues, all bar two have been re-deployed from other specialities and this is their first experience of ICU. Baptism of fire!
One patient who had a wobble at the start of the night seems to be significantly improving. Has he turned the corner this night? It looks like it and I feel emboldened. Hopefully one more to beat Covid-19.
And then its morning. We do a walk round handover with the day team. The "Covid Tactical Commander" pops in for an update of events overnight.He looks pleasantly surprised at my reply to his question regarding how our night had been…"it was a good night" is my reply. He smiles wearily and says that it is refreshing to hear it.
And it honestly was. All patients survived the night. Morale was good and our team provided excellent care under difficult circumstances. I feel proud of my department. And I feel hopeful for the NHS. Lockdown is working. The British public are behind us. Every time a new challenge arises, people step up.
But I am so aware that this is not the end. We have a long way to go and many challenges ahead. And whilst Covid-19 admissions decrease rapidly via ED and the wards, the ICUs will be busy with Covid-19 for a long time yet. Many patients continue to fight for their lives. There will be more losses. We must not forget those still flighting, their families or the staff caring for them.
And so, to all those parts of the UK who are just reaching the peak …you will get through it. Stay strong. There is light at the end of the tunnel.

10th April 2020
This week I went to work, and completed a set of night shifts like no other I have experienced before.
I arrived for each of my shifts with a sense of foreboding, very aware that the peak of the pandemic is coming ever closer and worried about what each shift will bring.
At the start of each shift, I join the critical outreach team for their handover, as the day team go through each of the patients on the outreach list. It is staggering. Approximately 20-40 patients on the list each night. All Covid-19 positive or suspected. And all on 60% oxygen or more. Those on less get discharged from the list! The new "normal".
We are proning awake patients on the ward. Some patients are getting CPAP. Some are on 15L's via NRB, unable to be weaned down. All are being reviewed regularly during the day by the outreach team lead by an ICU consultant. Many patients are sick but stable, some improving and a few give us cause for concern. The night team will work tirelessly all night to make sure that every patient is seen and safe. Over the week, 1-2 deteriorating patients are intubated each night and taken to one of the ICUs.
The bleep I hold is the outward facing bleep and covers referrals from ED – all critically ill medical and surgical patients, all trauma calls and cardiac arrests. I also provide support and advice to any of the residents and SpRs on the units. And the number of units has expanded over the past weeks with ventilated patients in newly designated critical care areas. As of last week, there is also a resident ICU consultant on call , absolute godsend!
Multiple ED referrals are received throughout each night. Majority are ?Covid and profoundly hypoxic. The biggest challenge is trying to provide patient-centred care when each patient presenting is identical to each other – hypertensive +\- diabetic +\- raised BMI with cough, fever, hypoxia and respiratory distress. They blur into one. But what strikes me is that most are surprisingly calm. There is little surprise when I tell them that we think they have coronavirus and may need to go on a ventilator. Just quiet acceptance. I make many phone-calls to familIes from ED, hating the thought of them seeing their relative taken away and not hearing any news. I update them on their relative's progress and gain vital information on their loved ones baseline. Information that has important bearing on their treatment escalation. The emotion down the phone is tangible. But the families are so grateful for any news and grateful that we will take them to ICU if needed. Not all need it now, but most do.
The family of an 80 year old man particularly resonates. His wife tells me she is a retired nurse of 35 years. In between sobs, she expresses her gratitude for the care we are giving. I feel so choked up, I can barely say anything. It's humbling. I promise her I will deliver a message to him. And I do. We hold hands for a moment as I whisper the words she told me to tell him. He nods and smiles. He tells me he does not want to come to ICU. Two days later, he passes away on the ward, having seen his family for the final time.
But the referrals are not just Covid related. We have a code red HEMS trauma come in. A young man who has jumped from a significant height, his injuries are devastating. Two patients are referred with low GCS who we discover have had catastrophic brain haemorrhages. One dies in ED with their family around them, the other goes to the ICU for prognostication and possible organ donation. Four out-of-hospital cardiac arrests, three of whom survive with potential for full recovery. One recreational drug overdose. A urosepsis with septic shock and multi-organ failure. The ED team and phenomenal ACCPs provide fantastic support. Working with me to stabilise each patient, keeping me fed and watered throughout the nights with their usual high end banter, ensuring all of our morale is kept high. It is not very busy in Resus but those that come in are super sick. It is time-consuming and intense.
But I feel relief, all of these cases are ICU bread & butter. But the difference is, they may all have Covid, so it's all done wearing PPE. For hours on end. There's huge communication challenges. It's distracting. The glare from the visors makes putting in endotracheal tubes and lines challenging. And having to wear sterile gowns, gloves etc over the PPE makes it hot and sweaty work. There are times I want to scream and just rip the mask off. My nose is bruised, my cheeks sore. Even when I am finally at home, lying in bed, trying to sleep…I still feel the sensation of a mask on my face.
And then there are the ICUs. The doctors and nurses on each unit work tirelessly all night. So many sick patients. The consultant and I attend many emergencies on the Covid units throughout the nights. A number of cardiac arrests. Some ventilator emergencies. And we lose patients. The phone-calls to the relatives are like a kick in the stomach. The grief down the phone is heartbreaking and I struggle to hold it in myself, voice breaking as I tell another family "I'm so sorry". It feels so inadequate.
But there are many getting better including my patient from the other week. He's doing really well and I'm so relieved. Each patient that beats this terrible disease needs to be remembered and celebrated. As do those who sadly lose their battle.
The nurses in particular are struggling. They feel like they are fighting fires all the time and not able to give the standard of care they usually do. But what they are achieving is superhuman. And still they keep going. We all do. The incredible anaesthetists now part of the ICU family, the unflappable and highly skilled ACCPs, the fantastic ED doctors, the superb and awe-inspiring medical doctors on the wards, the wonderful ward nurses, the doctors and nurses from other specialties now deployed to the critical cares, the HCAs and cleaners, the physios, pharmacists, mortuary workers, the bereavement office…we all keep going. Because we are the NHS. Because our patients and country need us. And in the future we will say, "we were there" but who knows what the toll on us will be…
And now I'm home. Enjoying a long Easter bank holiday. Feeling both blessed and guilty for being off. Resting and recuperating for the week ahead.

2nd April 2020
Today I went to work.
Cycled down the country lanes to the train station. And stopped briefly to appreciate the dawn chorus, such a beautiful sound.
Nature giving me an uplifting, almost reassuring accompaniment to the start of my day. "You can do this" it sings.
The station is deserted. I feel like a lone warrior as I step onto the train.
It has been a difficult week on our ICU. We had 6 patients die. I can't remember ever losing this many in a week. And I can't stop thinking about the relative of one of the patients who died. An 81 year old mother, phoning each day to enquire about her son. Her tremulous frail voice and the sound of relief as I update her that he is doing ok. I feel physical pain as I think of the phone-call made to her the day before. That her son has died. And the fact that she wasn't able to get to the hospital in time.
But as I near the hospital, I join the army of NHS workers starting their day. And feel a sense of pride and belonging.
The ICU is incredibly busy now. The number of Covid-19 patients requiring critical care is rising swiftly. Our unit is full again with 30 patients, having received 6 new admissions overnight. The handover is quick and efficient. The night team of 2 doctors look exhausted. We give them a round of applause to send them on their way home. Heroes.
Covid-19 patients have now filled a 2nd 15-bedded ICU on site. And a 10-bedded unit, created in a former HDU area, is also full. There are now 34 beds in theatre recovery which are slowly being filled. PICU are taking non-Covid adult patients. Two other ICUs are increasing their bed capacity in preparation for the surge. Staff are being re-deployed from around the hospital to join the ranks of critical care staff. And we are so grateful to them. The morale of the department is high with support coming from every department and staff level.
The day goes by in a blur. Some patients are early on in their illness and need stabilising, life-saving care being instituted. Others are static in their progress and we analyse their numbers and clinical picture, trying to move them forward. Some are getting better and are nearing discharge. We have had some great successes. A colleague and I perform a tracheostomy in a patient who has recovered but is weak and needs slow weaning from the ventilator. But we are delighted that he has got this far.
End of shift. An hours train ride and then cycle home. Two hours later I am home and showered. Just in time to cuddle my little one and read her her favourite bedtime story "Spot Says Goodnight". Precious moments.
It is getting harder to switch off from work. Sleep is slow to come and nights are restless. Covid-19 fills my thoughts. But a bit of mindless TV and debrief with my husband puts those thoughts to rest for now. Bedtime. Ready for my on-call night shift tomorrow.

27th March 2020
Today I went to work.
Ate my breakfast on the empty train. Watched the beautiful frosty scenery go past. Thought about the patients I'd seen recently in the ED who needed ICU, and hoped they had survived another night.
Walked past the warning signs at the hospital entrance and then those on the doors to the ICU. I'm used to them now.
Changed into my scrubs, donned my mask and sat in handover for an update on each patient. Handover now takes over an hour as we have a full ICU. 46 patients in critical care. An increase of 28 in a week. Age range 28-70. Most with minor underlying medical problems.
I'm assigned my 4 patients and donn full PPE
and enter the "risk" zone to briefly examine each patient. Switching gloves and washing hands between each case. I touch base with each nurse. Do they need anything? Any concerns? Are they ok? And thank each for their incredible work. Each nurse is in full PPE for their entire shift except breaks. They are superhuman.
We're beginning to know this silent enemy. The virus. Patterns are emerging. But it's frustrating and slow. And those patients that are doing less well, we feel at a loss to know how to halt their decline. We focus on the best evidence-based practice and gather advice from regional, national and international critical care networks. We lost some patients this week and that's been tough. Some patients have been transferred out for ECMO. But we've also had successes. Patients have been liberated from their ventilator successfully and been discharged from ICU and are doing well. Significant milestones which have boosted morale.
We snatch a few minutes for lunch. So grateful for the delicious food being donated by local restaurants. A definite highlight of the day!
The afternoons are hectic. Stabilising sick patients. Proning those who need escalating treatment for refractory hypoxia. Dealing with new admissions. There's now a sense of urgency and feeling of pressure. But we know what we need to do and pull together as a team. Nurses are being re-deployed from all over the hospital to assist us. Our Anaesthetic colleagues are supporting us too. Critical care is expanding into new areas of the hospital with the contingency plan to achieve 300+ beds.
A new admission arrives at 6pm. He deteriorated on the ward and needs intubation. They're too busy to perform it there so bring him to us.
He sits there trembling with fear. Wide-eyed as he stares around him. I donn my PPE and go to reassure him. He's exhausted. I drift him off to sleep, reassuring him that I will see him soon. He will be fine and we will take good care of him. He will never be alone, with a nurse always watching over him. He holds my hand and says "See you in the morning…thank you doctor". My heart breaks a little. Half an hour later he is stable and settled. I put my hand on his forehead and whisper "Please do well". A small plea.
I sit on the train home, it is so quiet and empty. London is still. Londoners have finally listened. And I feel relief.
Its 22:00 and now I'm home. Showered and clean. Sat on the sofa with my husband. After sneaking in to the nursery to stroke my little one's head. Another day over. A precious weekend off and then back again…

19th March 2020
Got on the 06:17 train and sat & ate my breakfast, pondering on what the day would hold. The train was pretty quiet, probably a 5th full.
Arrived at my destination and walked to the hospital feeling a little trepidatious, a small flicker of nerves…
Walked through the main entrance and past the foreboding "Coronavirus" warning signs, the hospital is eerily quiet.
At the ICU doors, I'm stopped by huge warning signs with instructions to wash hands and then put on masks after entry.
After changing into scrubs and donning my mask, I go and sit in handover and listen to the events overnight. A lot of new admissions over the past 48hrs. All Covid-19 positive. All on ventilators. The number of patients are surprising. They're a range of ages, backgrounds and presentations. Some neighboring ICUs are already full. And this is just the start of the wave…the tsunami is coming.
I spend the rest of the day on the ICU, wearing a mask at all times and donning full PPE when in the "risk" zone. I donn and doff with my buddy, checking and re-checking we're safe. The unit is quiet, controlled and focused. We're getting to know this disease, this silent enemy. And we're getting to know each patient, early on in their journey. It's busy but manageable.
The staff continually check each other are ok. PPE is uncomfortable, hot and intense. And really hurts your nose!! The nurses are wearing it all the time as they sit by and care for their patients. Families phone to check on their loved ones and are updated over the phone as they're currently not allowed to attend in person.
We eat our lunch in the "safe" zone and join a departmental teleconference to give us all an update on the situation in the rest of the hospital and discuss clinical cases. Colleagues log in from all over the hospital and from home. We sit there in our masks, feeling cheered by seeing all our colleagues faces. So much planning, training and preparation going on. The scale of the contingency plans are both awe-inspiring and ambitious. I feel reassured.
The rest of the afternoon is spent performing procedures, chasing results, checking on each patient's progress, adjusting various infusions, drugs and machines, and ensuring we're all set for the night. We receive a new admission from the wards, another Covid-19 patient and are made aware of a few more that may come our way. Our Critical Care Outreach team are working hard on the wards as are our medical colleagues.
Home time. I'm finally able to check my phone. I read some messages from friends and family telling me to keep safe and thanking all of us in the NHS for our great work. I smile, it definitely gives me a boost.
I sit on the train home, amongst the general public. London is still busy. Londoners seem defiant. They're not listening… "COVID-19 is here, it's real!!" I want to shout, whilst picturing the bays of ventilated patients I've just left.
But now I'm home. Showered and clean. Sat with my husband and watching my little one sleep on the baby monitor. Ready for my 12hr on-call shift tomorrow…
For more reflective journals, see our Coronavirus Doctor Diaries page.
The following two tabs change content below.
Jenny Abthorpe
Jenny is a Dual ICM and Anaesthetic ST7 working in a large teaching hospital in South London. Her interests include Critical Care Outreach, Point of Care Ultrasound, Medical Education and Mentorship. She is passionate about spreading the love about how fantastic a career in ICM is and encouraging more women into this rewarding career.
Latest posts by Jenny Abthorpe (see all)