Applying to Management Consultancy: How doctors can stand out from the crowd!
We bring you a webinar with Bain & Company to share what a Management Consulting does, the critical steps to take as a doctor before you pursue consulting, and how to navigate through the interview processes.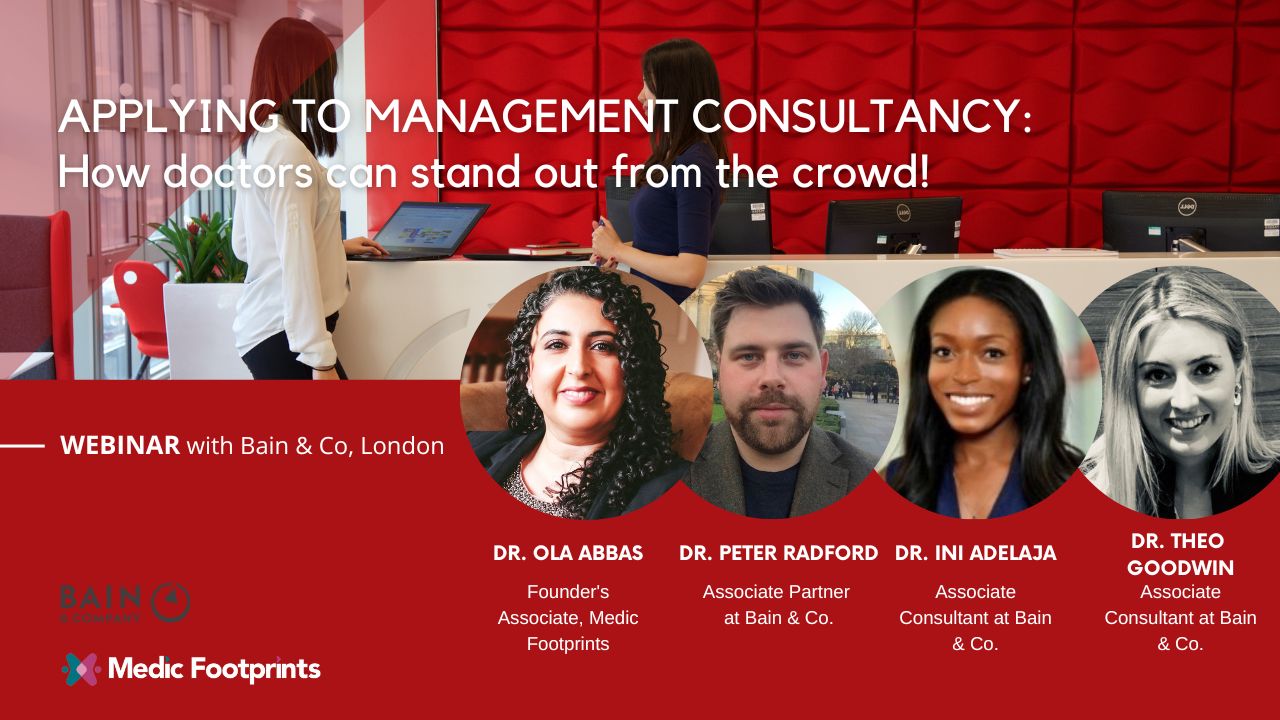 Management Consulting is a very popular move for us doctors to make as a career change but many of us struggle to understand:
The value doctors have in consulting firms
How to sell ourselves as doctors new to consulting
How to navigate through the initial phases of the application process
Therefore we bring to you our LIVE webinar in partnership with Bain & Company which aims to keep you informed on the above including:
The high level requirements needed to pass screening for Bain – e.g. what they look for in a CV!
Insights and tips on how to succeed the first time through the Bain application process
Key tips on approaching case interviews
.. and of course a unique opportunity to ask your BURNING questions to the speakers directly – and LIVE!
Forget what you think you know.. the door is now open for you to learn how Consulting can seriously transform your career journey from medicine!
Speakers
Dr. Peter Radford – Associate Partner in Private Equity & Healthcare at Bain, London
Dr. Ini Adelaja – Associate Consultant at Bain & Company, London
Dr. Theo Goodwin – Associate Consultant at Bain & Company, London
Host: Dr. Ola Abbas – Founder of Medic Footprints
We recommend you watch our previous webinar:
Critical Steps for Moving into Management Consulting that every Doctor Needs to Know
Register below to get access to the webinar recording.
The following two tabs change content below.
Latest posts by MF Admin Team (see all)