DAUKs plea for PPE
"The NHS saved your life, now we need you to save ours" DAUK's powerful plea to Boris Johnson for adequate #PPE for all staff projected on the Houses of Parliament.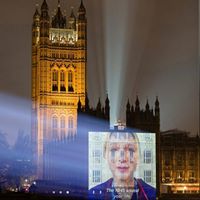 The Doctors Association UK (DAUK) were asked to front this project from Led by Donkeys using videos from many of the DAUK Executive Committee. This video of the DAUKs plea for PPE has swept across the media and hopefully this powerful message continues to be heard.
DAUK's plea for PPE
#protectthefrontline
DAUK is a non-profit organisation led by volunteer doctors. Check out their website for more on how you can support the organisation.
For more videos and articles from doctors on the frontline, check out our Doctor Diaries.
The following two tabs change content below.

Lauren Colquhoun
Lauren is a portfolio GP in Central Scotland, with a passion for women's health and lifestyle medicine. She is a Team Partner and Content Lead here at Medic Footprints.

Latest posts by Lauren Colquhoun (see all)