What is it really like working for a Virtual GP Consultation company?
There are several GP Virtual Consultation companies in the healthcare ether these days, but what is it like to work in these types of companies?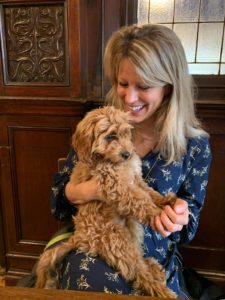 There are several Virtual GP Consultation companies in the healthcare ether these days, but what is it like to work in these types of companies?
Does it truly offer a more flexible approach to working as a GP?
We catch up with Dr. Anna Martin from Doctor Care Anywhere (DCA), about her experience working with the company from starting as a virtual GP and progressing to Clinical Lead.
Tell us a bit about what your week generally looks like at the moment?
​I work three days a week at the DCA London office and one day a week remotely, as well as continuing regular locum sessions within the NHS. At the moment, any spare time I have is mostly taken up by my beautiful little puppy!
How long have you been working for DCA and what attracted you to the virtual GP role?
​I started working with DCA in August 2018 as a Panel GP, predominantly consulting on the virtual platform. I applied after a friend of mine who had used the service, and who was delighted with the care she received, recommended I apply.
I'd already been a GP for 4 years at this point and I was looking for a new challenge in my career.
The skill set required for telemedicine is quite different to that of conventional face to face consultations and I knew this was a pivotal moment in healthcare provision, with virtual consulting becoming more commonplace. I wanted to be part of this new movement that was aiming to improve, transform and shape healthcare.
Upon researching DCA, I realised it was a doctor-founded digital healthcare company, whose founder is passionate about delivering the highest quality care and safely. I also learned that DCA provided bespoke training for their GPs in both virtual consultations, as well as in the technology needed to provide the consultations.
It's such a supportive environment, with real opportunities to develop and grow with the company.
Tell us more about what it's like working with DCA – the team, culture and clinical experience? How does it compare to other similar roles you may have worked in?
​
I'm now part of the in-house Clinical Team and am one of two Clinical Leads. The team is comprised of the CMO, Clinical Directors, Clinical Leads and Medical Project Assistants. We all work very closely with our colleagues in Clinical Ops and the Patient Experience Team, as well as with the Tech and Product Teams.
What I love about DCA is the 'can do' attitude and the positivity emitting from the company.
I feel like I'm part of something very special, where we can really influence and continuously improve the way we provide patient care. Our mission is improving people's lives and for me that stands true.
My heart lies so much in the NHS, yet this role allows me to continue working in the NHS without getting burnout.
At DCA we work from the comfort of our own homes when consulting, organising our shifts around our own lives and we have longer appointments with our patients: 15 minutes, with minimum admin, which means that I can give the care I really want to give both in the NHS and in the private sphere.
There is so much support at DCA, despite working remotely. As I mentioned, the training is tailored to remote-based GPs and we feel part of a community with our online messaging forum, where we can support one another with clinical / administrative issues.
There is always a Clinical Lead on-call to help with any medical emergencies or safeguarding concerns and the Patient Experience Team are incredibly supportive too.
Telemedicine is still relatively new and evolving, so at DCA we are passionate about continuously learning and improving the care we provide. We are heavily involved in Quality Improvement Projects (QIPs) and I contribute to our monthly newsletter, highlighting any case reviews and clinical updates.
We carry out weekly prescribing audits, including antibiotic use. We also have an annual conference highlighting the latest service developments, QIP outcomes and changes in guidelines, as well as involvement of both primary and secondary care guest speakers.
It's such a varied role and I really love what I do here.
How did you progress from virtual GP to Clinical Lead at DCA?
After nearly 8 months working remotely as a virtual-consulting GP, an opportunity arose for an in-house Clinical Lead.
I really enjoyed working on the Platform and I knew I wanted to become more involved in DCA, especially after attending the Annual DCA Conference in November 2018, where I met the clinical team for the first time face-to-face and heard about the new and exciting projects DCA had already started taking forward.
I already felt like I knew the team, as they had been so supportive to the remote-based GP team. It felt like a natural progression from a Platform GP to the role of Clinical Lead.
The company is growing at a rapid pace and needs more passionate and motivated doctors to join our brilliant team. As we upscale particularly over the next 6 months onwards, there will undoubtedly be further opportunities for GPs to become more involved in DCA projects.
What general advice do you have for GPs considering working for virtual GP consultation companies?
​Virtual medicine has already become so integrated into the way we provide care and it is here to stay. It's a very exciting time to become involved in telemedicine, as there are so many opportunities for GPs to shape and improve the way we provide patient care in the future.
My advice would be to really gain confidence in the first 2-3 years after qualifying as a GP in telephone triage and OOH experience.
This will prove invaluable when working in telemedicine, where the clinical risks are higher and therefore sound clinical experience and swift decision-making are needed. For me, another major consideration was working for a company that had the same ethos as I did: the patient being at the centre of all we do.
There are so many digital healthcare companies out there, so make sure you've researched their values and ethos and find one aligned with your own values.
---
Since this post was published, Anna progressed to a Senior Associate Medical Director at Doctor Care Anywhere!
If you're interested in finding out more about working with DCA, click the button below for next steps
The following two tabs change content below.
Abeyna Bubbers-Jones
Abeyna is the Founder & Director of Medic Footprints and a Consultant Physician in Occupational Health
Latest posts by Abeyna Bubbers-Jones (see all)