Is the NHS Losing Doctors to Alternative Careers?
As the ACW event in 2015, we discuss possible reasons why the NHS is losing doctors to alternative careers and what can be done about it
Is the NHS Losing Doctors to Alternative Careers?
Ed Fitzgerald, posed this question to over 120 doctors in one of the overcrowded seminar rooms at the ACW event in 2015.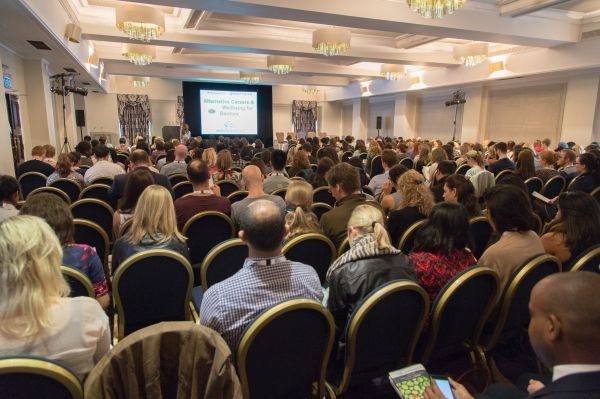 Ed himself has managed to carve a fascinating tailor-made career by combining his surgical training, management and leadership experience with ASiT and allied projects, interest in global health and well respected achievements in academia publishing in journals such as The Lancet.
He is yet to become a Consultant in his field, and seems to be in no hurry.
Is he an illustration of a doctor who has embarked on an alternative career? The fusion of surgery and global /public health may seem unfathomable yet it is notably an expanding career trajectory for doctors.
For others, alternative careers mean leaving medicine (or the country) entirely or generally shunning the NHS in favour of working for private companies in a variety of medical or non-medical roles. The meaning is broad but in my opinion it means exploring careers beyond the prescribed training or specialty pathways.
Our current workforce includes several disillusioned medical students and doctors who demand flexibility, autonomy and choice.
The dichotomous option of being a GP or hospital doctor is no longer enough.
Clinical exposure or mentorship is one of the most influential ways in facilitating career choices yet the vast majority of clinical career opportunities are out of reach for many.
How do you know what you want to do if you don't know it exists or haven't experienced it?
One of our exhibitors who still works as a doctor but has also set up her own enterprise commented on her experience at the ACW event:
" I wish there had been something like this when I needed it several years ago"
She echoes a multitude of doctors who have approached me feeling that they are unable to have career changing open conversations at work if they are considering other opportunities; many describe being shut down, actively dissuaded or not informed about any opportunities beyond the conventional.
Without the right guidance and support, leaving medicine seems to be the only option for some.
Career coaches and mentorship are an essential resource to use in these situations; both were available through our event.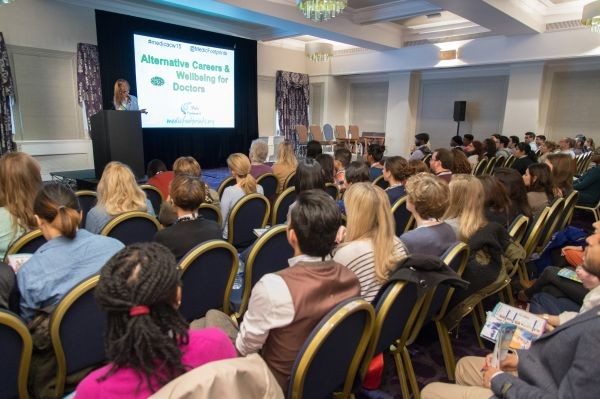 As I addressed the 350 strong crowd at the event, I was frankly overwhelmed. The emotional and physical effort required to plan and execute this event was totally worth it. My ambition was simply to get everyone together in a room, get them talking and embracing themselves for the less trodden pathway of uncertainty and change. It worked!
The atmospheric buzz was tangible & I spent the entire day networking with every delegate, guest speaker, exhibitor and mentor possible with really positive feedback. This event was our first and managed exclusively by myself and Sara.
Despite discouragement from others regarding its time proximity to other well established events, we went with our gut instincts and experienced the results we wanted.
So back to Ed's question. Is the NHS Losing Doctors to Alternative Careers?
I'm concerned there is a massive brain drain from the NHS at a time when its greatest asset is needed the most. Ironically many of these alternative career opportunities can be found within the NHS but unfortunately these roles are either sold out to private companies or advertised to other target markets.
I was keen to invite NHS organisations offering something a bit different to our event, but sadly failed to get their attention. Luckily, however, there was some representation from smaller organisations who do provide NHS services such as the British Society of Ecological Medicine, Faculty of Homeopathy and Faculty of Occupational Medicine.
I believe that more should be done to protect the government's investment on medical training; the answer lies in celebrating the wealth of opportunities available to doctors, contrary to 'hiding' them out of fear and insecurity.
The recruitment of doctors into various roles are becoming increasingly competitive across sectors. The NHS should consider providing similar opportunities and avenues for more career flexibility, progression and recognition if it wishes to retain its medical workforce now, and in the future.
I was pleased to hear that delegates didn't attend the event simply because they were pissed off with Jeremy Hunt. It was apparent that their desires for more extended beyond a national contractual dispute.. and had been brewing for a long time.
---
Abeyna Jones is an Occupational Medicine Registrar & Medical Director of Medic Footprints
@DrAbeynaJones – feel free to connect with me on Twitter.
---
What are your thoughts – Is the NHS losing doctors to alternative careers, and what do you think can be done about it? Please leave a comment below.
The following two tabs change content below.
Latest posts by Raden Payas (see all)