Medical Registration & Work Visa in South Africa
Not an easy feat and perhaps your biggest obstacle to working in South Africa (SA), however once completed your working life can be flexible and provide a variety options for you depending on your career choices.
Medical Registration is through the Health Professionals Council of South Africa (HPCSA), who are responsible for processing registrations for all medical professionals, hence waiting times for your application to be reviewed and approved can take several months. However, it is not the application itself that is the rate-limiting step; more-so the preparation you require beforehand which requires even more form-filling and toe-tapping.
Please note, when you apply for or register your interest for jobs in South Africa, the post must be endorsed by the Foreign Workforce Management for the Department of Health. This means that you will only be able to apply for posts that have been unfilled by a local graduate for a determined period of time. Practically all of these posts are in rural South Africa where healthcare provision and healthcare staffing is relatively low with reference to the population it serves. Acquiring a salaried, or even a Medical Observer post in one of the major cities (e.g. Cape Town, Jo'burg, Durban) is extremely difficult and competitive.
You will not need to register with the HPCSA if you are volunteering in SA.
Below is a summary of the steps you need to take to secure your medical registration and visa. For a more detailed description of each step, it is worth reading the BMJ Careers Article; 'Working in South Africa'.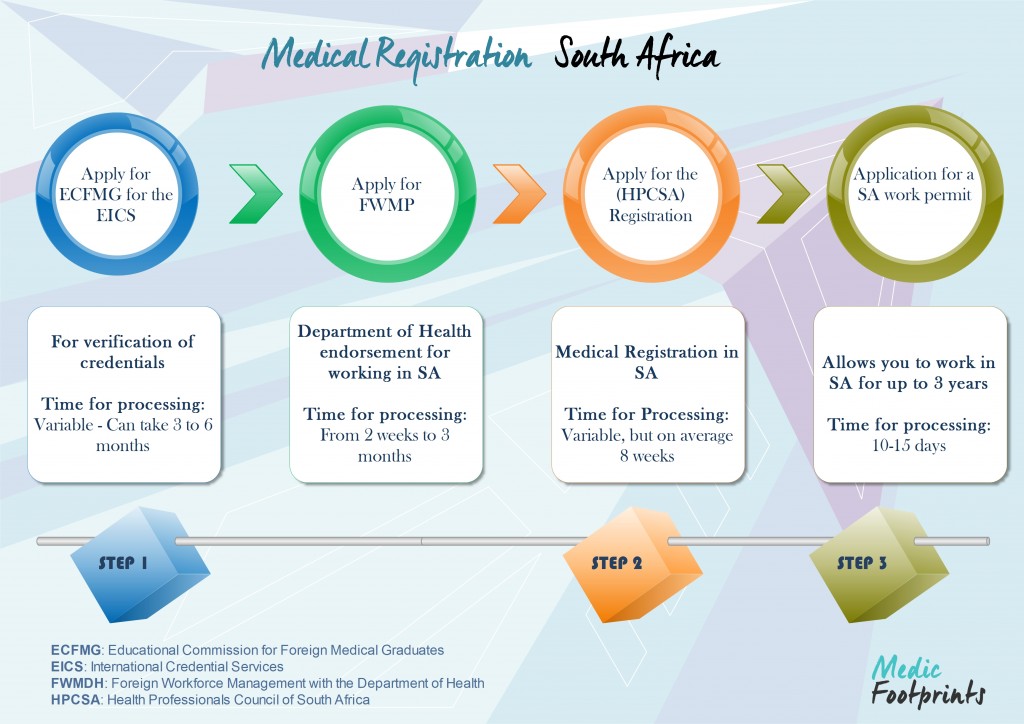 STEP 1
APPLY FOR EDUCATIONAL COMMISSION FOR FOREIGN MEDICAL GRADUATES (ECFMG) FOR THE INTERNATIONAL CREDENTIAL SERVICES (EICS). 
What do they do? A US non-profit organization used by SA to verify international medical credentials. They will contact your institutions to confirm your qualifications, subsequently sending a report to the HPCSA (see below)
Time for processing: Variable – Can take 3 to 6 months (depending on how co-operative your institutions are!)
Cost: $150 (US dollars)
Website: www.ecfmg.org
APPLY FOR FOREIGN WORKFORCE MANAGEMENT WITH THE DEPARTMENT OF HEALTH (FWMP)
What do they do? Regulate recruitment, employment and migration and endorse your application for a job vacancy and work visa. You will have to complete a 'Z83' form. This can be achieved in parallel to your ECFMG pursuits. Once you have this endorsement you will be able to receive your job offer.
Time for processing: 2 weeks to 3 months
Cost: Free
STEP 2
APPLY FOR THE HEALTH PROFESSIONALS COUNCIL OF SOUTH AFRICA (HPCSA) REGISTRATION
What do they do? Medical Licensing Authority for South Africa
Time for Processing: Variable, but on average 8 weeks
Cost: Up to R3000 (under £200) for medical practitioners
Note: Your credentials need to be verified by the ECFMG before application. They also require; your letter of endorsement from the FWMP, notarization of your medical degrees, certificates and passport, your Certificate of Good Standing from your medical council, proof of internship, job offer and witnesses to your application. Once provided, you are eligible to given your job contract.
STEP 3
APPLICATION FOR AN SA WORK PERMIT
What does it do? Enables you to work and live in South Africa for 3 years.
Time for processing: 10-15 days
Cost: £125 for work permit
Note: Preparation takes longer than the application. You will need the FWMP to apply. Other notable documents include a police clearance certificate (£45-80 depending on urgency), medical and radiological report (clear chest X ray), birth certificate, job offer letter.
If you need assistance with any of these steps, we can provide advice, however you are best placed liaising with Africa Health Placements who are an NGO based in South Africa who have several years of experience supporting foreign doctors through this process.