An Interview with Microsoft Chief Medical Officer
We meet with Simon Kos, Microsoft Chief Medical Officer as he describes his career pathway to date and shares exciting projects within Microsoft Health
My travels to Seattle in October with the NHS Clinical Entrepreneurs, brought me to the Microsoft campus where we were greeted in the Executive Briefing Centre by Simon Kos, the Microsoft Chief Medical Officer.
Simon, having recently moved over from Sydney, Australia, described his tortuous career pathway which eventually landed him his current role where he now heads some of the most exciting projects within Microsoft Health and other related ventures.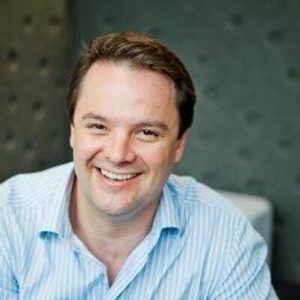 What prompted you to explore other options beyond conventional medicine and what were your experiences stepping into unknown career territory?

I was horrified as a practicing doctor at the deplorable state of technology in hospitals. I considered it dangerous. My research into how to improve our health processes naturally led me to information technology.
Like most clinicians, I'm inherently risk averse.
I never really considered leaving medicine behind, but rather exploring this information technology area as a hobby. That 'hobby' rapidly took up all the time I had, and I was too busy to be daunted by such a radical career change.
How did you find the transition from clinical work to software development and business?
I acutely felt my lack of formal information technology skills, and thought the best way to get competent was to study software engineering.
How wrong I was.
Actually, the education gap I had was business skills, and organisational change management. Business school taught me the context and language to be able to influence healthcare at the executive levels, which then allowed me to become an effective change agent.
Do you feel that completing an MBA was inherently beneficial in your professional development and future opportunities?
I started with Cerner as a 'care transformation consultant'.
I knew care, but not organisational change or consulting.
And I certainly didn't learn this in my software engineering course! The MBA I chose was modular, which fit with my risk averse nature. I started with a 13 week module on organisational change, which I could combine with three other modules into a certificate of change management.
Two more modules would give me a diploma of business administration, and a final year would grant me an MBA with a major in change. Lectures were synchronised nationally so I could do my learning in any capital city, the format fit really well.
My MBA taught me a new language that I could use immediately, so the feeling of improvement started early, which was gratifying. The learning was done with practicing managers across all sorts of industries, and I found it fascinating to share ideas with such an eclectic group. Most importantly, the assignments were practical and required the input of executives from my company. I got a lot of face time with the leadership team, who knew the accelerated learning I was going through, and that promoted visibility and trust.
Take us through your 'typical' day as Microsoft Chief Medical Officer, if this exists?
I really don't have a typical day, my work is so varied. But I try to keep it organised around a few simple themes so that I have impact in my work.
First is strategy – I need to be clear on what our mission and role is in health.
That involves learning a lot from and about health to be able to spot trends, market failures, and opportunities. Translating that into the role of Microsoft in health allows me to have meaningful discussions with business groups about how their product, service or domain expertise can light up a digital health vision.
Second is field enablement. We have a staff of about 800 worldwide dedicated to health, and I need to cascade that strategy to them in a way that allows them to have intelligent conversations with health partners and customers.
Thirdly, I communicate that strategy externally. That might be a keynote to hundreds, or an intimate dinner of state leaders.
Finally, I scale that message through digital and social channels. That means not just microblogging on social media, but creating assets that can be consumed digitally, including video, infographics, eBooks and whitepapers.
What are your real life passions and how does this feed into your current work?
I come from a medical family, and the two principles of 'Do Good' and 'Make a Difference' have been at the core of my personal mission, from an early age.
I feel like technology allows me to do both at scale.
I also am an avid reader and passionate computer gamer.
Reading keeps me learning and open, and while I game for recreation primarily, it also indulges my process improvement obsession. Whether it's stacking the dishwasher or delivering a presentation, if it's something I do more than once I want to improve every time.
What advice would you give to doctors aspiring to work in a non-clinical capacity such as yourself?
Doctors are some of the most creative, driven, and passionate professionals. Routine clinical practice doesn't always indulge those talents, and sometimes those urges need an outlet. I can relate.
The opportunity to get involved in change initiatives while still working in the system are enormous, but they aren't immediately visible. I never thought to ask hospital administration whether there were ICT initiatives underway, but if I had I might have found myself on an EMR steering committee or PACS evaluation panel.
That would have been exciting, and allowed me to explore that aspect of clinical IT to see if it held any interest. Conferences are another low risk way to get exposure to non-clinical industries that nevertheless touch on health.
They offer an opportunity to hear from leaders in the field while also taking the pulse and feeling the energy of that sector. Once you find what you want to go do, invariably business skills are required, and they are not formally taught in medical school or clinical practice.
_________________________________________________________________
Interested to learn more about opportunities in Health Tech? Check out our webinar on how to get stuck in!
The following two tabs change content below.
Abeyna Bubbers-Jones
Abeyna is the Founder & Director of Medic Footprints and a Consultant Physician in Occupational Health
Latest posts by Abeyna Bubbers-Jones (see all)