Thinking of becoming a doctor in the US or UK, but you are unsure of how to prepare for it?
Nugrahan and Kaplan has prepped and hand-held many Malaysian medical students and graduates throughout the entire process of attaining a US and UK residency since 2012.
They offer personalized guidance from Step 1 all the way to residency application. Nugrahan is the first and only student placement company in Malaysia guiding students for the USMLE and PLAB examinations as well as US residency.
Kaplan
KAPLAN  is one of the world's top educational companies that has led the Test prep industry for over 80 years.
Kaplan Medical prides itself in helping thousands of doctors from around the world to achieve the highest scores in the USMLE step exams and successfully obtaining residency match in the United States.
Their curriculum is structured by top notch faculty members with decades of experience keeping in mind the current exam trends.
What is USMLE?
The United States Medical Licensing Examination (USMLE) is a three-step examination for medical licensure in the United States, which allows the successful candidate to do their specialization in the United States of America.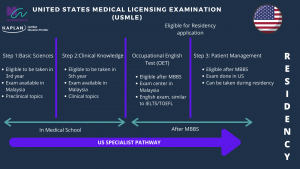 What is PLAB?
The PLAB test is for doctors who have qualified overseas and wish to practice medicine in the UK under limited registration. The test assesses your ability, as a doctor, to work safely as a senior house officer (SHO) in a UK NHS hospital.