The Ultimate Guide to Working in the UAE as a Doctor
Find out everything about what it is like working in the UAE as a Doctor and how to make the transition with our ultimate guide!

Thinking about working aboard? Ever considered the UAE as your next destination? Let us help you with your decision making process, at whichever stage you are at. We present to you the ultimate guide to working in the UAE as a doctor.
Introducing the UAE
Before we brief you on everything you need to know about working in the UAE as a doctor, let us introduce you to the multicultural world of the United Arab Emirates (UAE).
The UAE is situated in the Southeast of the Arabian Peninsula, between Oman and Saudi Arabia. The entire country is covered with sandy areas and salty lakes and the climate is considered arid. Summers are sweltering and sunny and winters mostly mild. So your snow boots can stay tucked away for the duration of your stay. Unless you go skiing at Ski Dubai!
Not sure what geographical regions make up the UAE? Well, in December 1971, the UAE became a federation of six emirates: Abu Dhabi, Dubai, Sharjah, Ajman, Umm al-Quwain, and Fujairah. The emirate of Ras Al Khaimah joined the federation in 1972.
The UAE Economy
Before oil was discovered, the UAE was mostly dependent on the fishing industry and a declining pearl industry. In 1962 the oil export started up. They invested their oil revenue into education, national infrastructure and healthcare!
In recent years a major aim of the UAE Government has been to diversify its income. It has created booming business opportunities and an exciting tourism industry. Apparent along UAE skylines are investments in the construction sectors. If skyscrapers and breathtaking city views are your thing, you will feel right at home in the UAE's growing urban jungles!
With 80 % of the UAE's population being foreign born, it is considered an expat's paradise. This is largely because of the great amenities, high salaries, one of the highest per capita incomes in the world. But also outstanding architecture, an excellent healthcare system, and many more exciting attributes, which we aim to showcase to you in the following sections.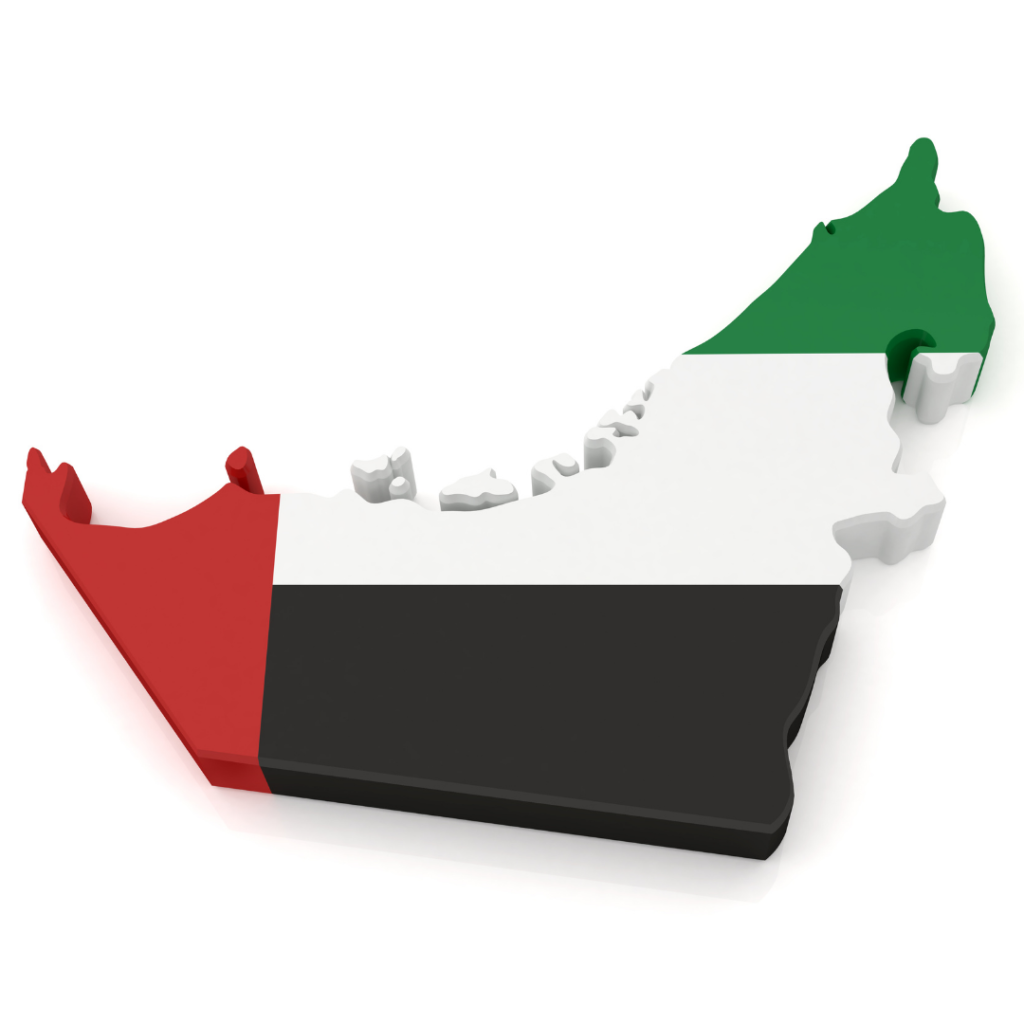 A few Stats and Facts
Population: 9.613 Million (2018)
Currency: UAE DIRHAM (AED)
Political Structure:
Federal Presidential Constitutional Monarchy
Life Expectancy:
Male: 74.31 years (est. 2013)
Female: 79.63 years (est. 2013)
Healthcare System
The good news is that healthcare in the UAE has undergone some massive developments in recent years, which makes working in the UAE as a doctor all the more attractive! The UAE stands now on number 27 in the world health system ranking according to the World Health Organization (WHO). Today the UAE has 40 public hospitals compared with only seven in 1970! This is thanks to the multimillion – dollar program undertaken by the Ministry of Health in order to expand health facilities and hospitals.

Here is a list of the entities that regulate health care depending on the Emirate:
The Ministry of Health also offers many eServices. It is strongly recommended that expats planning to move to the UAE take advantage of these.
Causes of Death
The leading causes of death in UAE, regardless of age and sex are: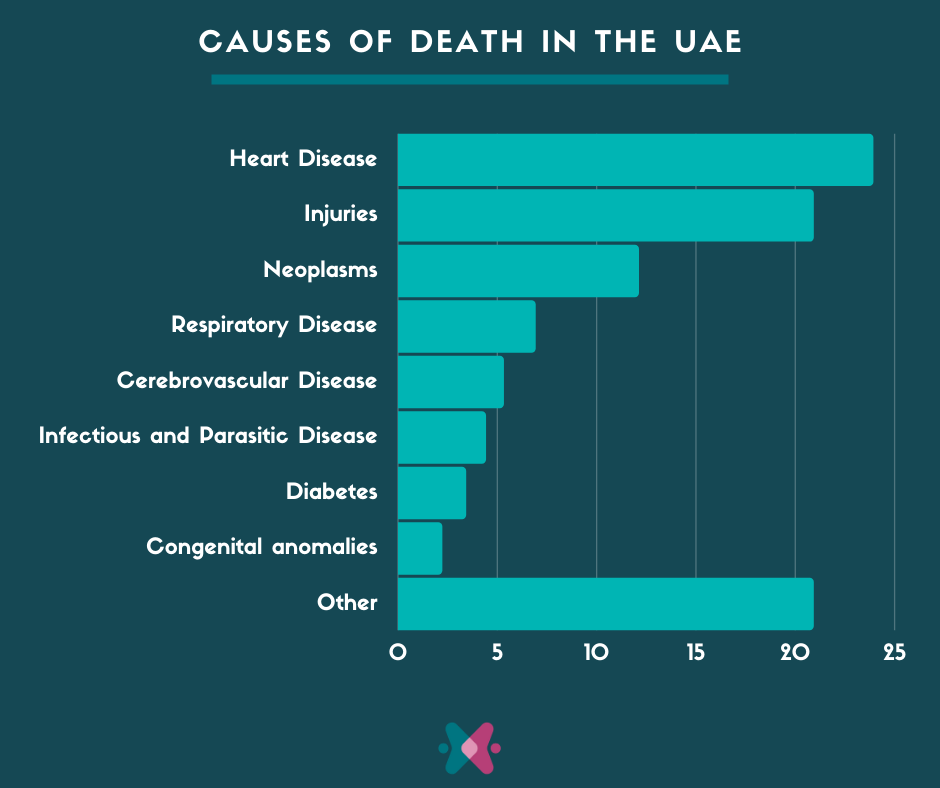 For more information on causes of death and the burden of disease in the UAE, visit this paper from 2012 in the Journal of Epidemiology and Global heath. Health Statistics provided by HAAD also has information on the above topic.
Safety
The crime rate is extremely low in the United Arab Emirates. In fact it has been designated as the world's safest holiday destination by the international travel industry on two occasions!
The terrorist threat is considerably lower in the UAE than in the rest of the Arabian Peninsula. Nevertheless, the UK foreign office and US state department still deem there to be a threat of terrorism. It is recommended to maintain a high level of vigilance and personal security awareness at all times. Exercise caution in areas known to be frequented by foreigners (commercial and tourist areas). Make sure to monitor local developments and follow the advice of local authorities.
Transportation
Whether it is commuting to work or exploring the surrounding areas on weekends, a car is the best way to get around. And with petrol being relatively cheap, transportation costs will not be exploding the budget. What might however, are speeding tickets! Be aware, there are many speed cameras alongside roads and fines are steep!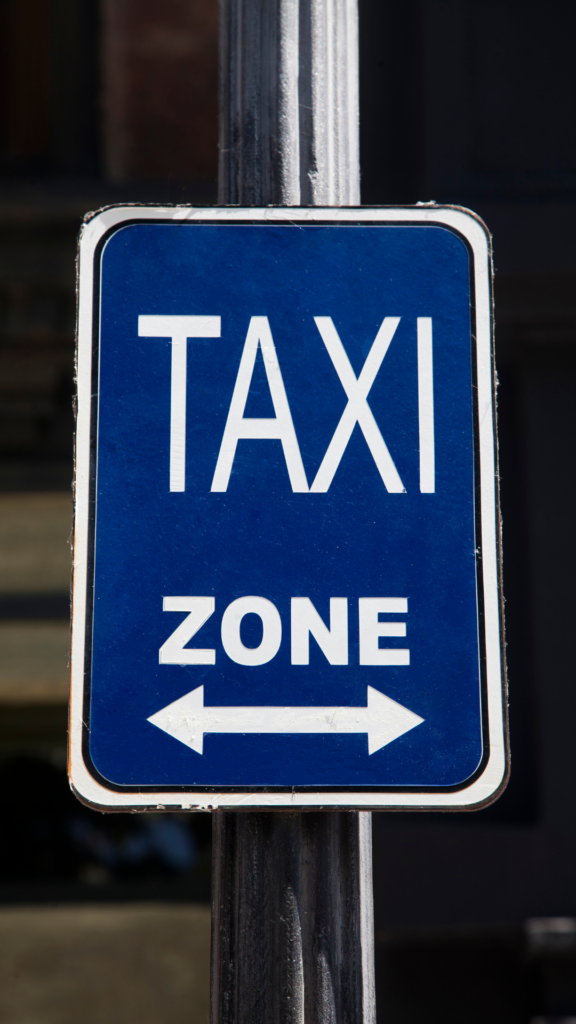 Alternatively you can also take a taxi, which some say is actually the best means of getting around in the UAE. Fun fact; they will take you to any destination you wish to go but by law cannot bring you back! This only applies between emirates. So a Ras al Khaimah taxi can drive you to Dubai but cannot pick up passengers there and bring them back.
Dubai, Abu Dhabi and Al Ain also have public bus transportation systems, which cost between AED 1 and 4 (between 0.21 and 0.84 pounds). Buses are air-conditioned, with a separate area for women and men. For travel between the Emirates, check out Inter-Emirate Bus Services. For more information on transportation check out the following link!
If you do decide to purchase your own car while you are working in the UAE as a doctor, know that city road infrastructure is state of the art and so are roads connecting one city to another. Desert roads on the other hand are rather bumpy and should only be travelled with off-road cars. This can be an amazing adventure however and the perfect way to destress after a long week at work!

For more inspiration about working abroad visit Top 5 reasons why working abroad is great for your career or if you want to find out more about why Dubai is one of the most fascinating cities in the world, click here!
---
A huge Thanks to Dr Nacrin Uddin for her expertise and contributions to this article.
About Dr Nacrin Uddin: I am a Consultant Family Medicine doctor currently working for Emirates Airline in Dubai. I am responsible for providing clinical care to pilots, crew and their dependents, whilst also incorporating aviation medicine and regulatory demands. Prior to moving to Dubai, I trained in Anaesthetics and critical care before moving across to General Practice. I then became a GP with a special interest in Dermatology in the UK.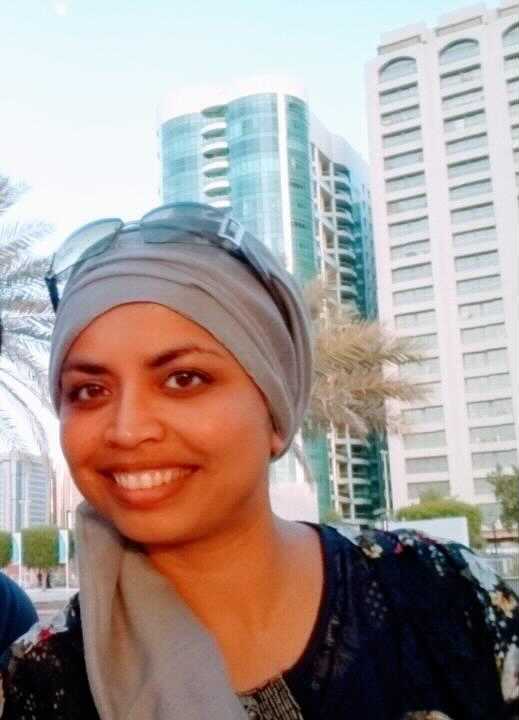 ---
The following two tabs change content below.
Rebecca Mortensen
Rebecca is a graduate entry medical student in Ireland. She is passionate about medical students' wellbeing, encouraging people to find their unique career paths and enjoys every opportunity to be creative.
Latest posts by Rebecca Mortensen (see all)