Dr. Tim Ojo – a Highly Experienced Coach, Mentor, Mediator and Trainer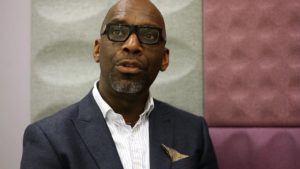 We are proud to share the experience and expertise multidimensional coach Dr. Tim Ojo can offer you. He has a background in mental health clinical practice – specifically as a psychiatrist and over the last 12 years in medical leadership and management, to include serving as a Board-level executive within the NHS for the past 7 years.
To further add to Tim's impressive resume, he also runs a boutique consultancy.
Who Does Tim Work With?
He is interested in working with clients who want to make authentic career choices with the benefit of a clear understanding of context and post-decision resilience.
If there's one thing to note, Tim is passionate.
Through applying relevant bespoke conceptual models, Tim shares his passion for helping others with a unique and highly effective delivery.
Through these conceptual frameworks, his approach is particularised to the requirements of the client. Tim is a lecturer, a trainer, a workshop facilitator, writer and commentator.
His writing includes papers on –
Leadership Development,
Strategic Risk Management, and
Employee Empowerment.
Tim's End Goal?
To help people identify and commit to a clear purpose across all areas of their lives.
Here's a short video from our post – Identify Intrinsic Values To Guide Your Career Choices.
His fees are based on the requirements of the client and would normally start at about £150.
Find out more about Tim here on his LinkedIn page.