What next for my career?
Is this it with my life?
Can I stay in medicine and not feel stressed?
How can I build a portfolio career or go part-time?
Sheela Hobden is an expert coach who successfully helps doctors, practice managers and many other healthcare professionals bring as much attention to their own lives as those whom they serve.  
About Sheela
Sheela has done it all: changed career, started a business and made mistakes as we all have when it comes to balancing wellbeing with work. These experiences have shaped her commitment to supporting others, including as a Wellbeing Practitioner. 
Her creative coaching approach stands out from the crowd and won her a place at International Coach Federation Advance, an international coaching conference focused on cutting-edge developments and thinking in the field. Sheela relentlessly continues learning and sharpening her skills to ensure that all clients get what they need from such a partnership.   
She is passionate about strengthening the coaching profession through mentoring other coaches, including in her role as Lead for Coach supervision with The Joyful Doctor.
When she's not coaching, Sheela will be outside somewhere, sea swimming or doing triathlon!
She most enjoys partnering with people who are curious about what coaching can achieve, and prepared to challenge themselves and explore new ideas. Those who are ready to throw themselves into doing the work, including between sessions, and as a result will feel the ripple effects in their professional and personal lives. Is that you?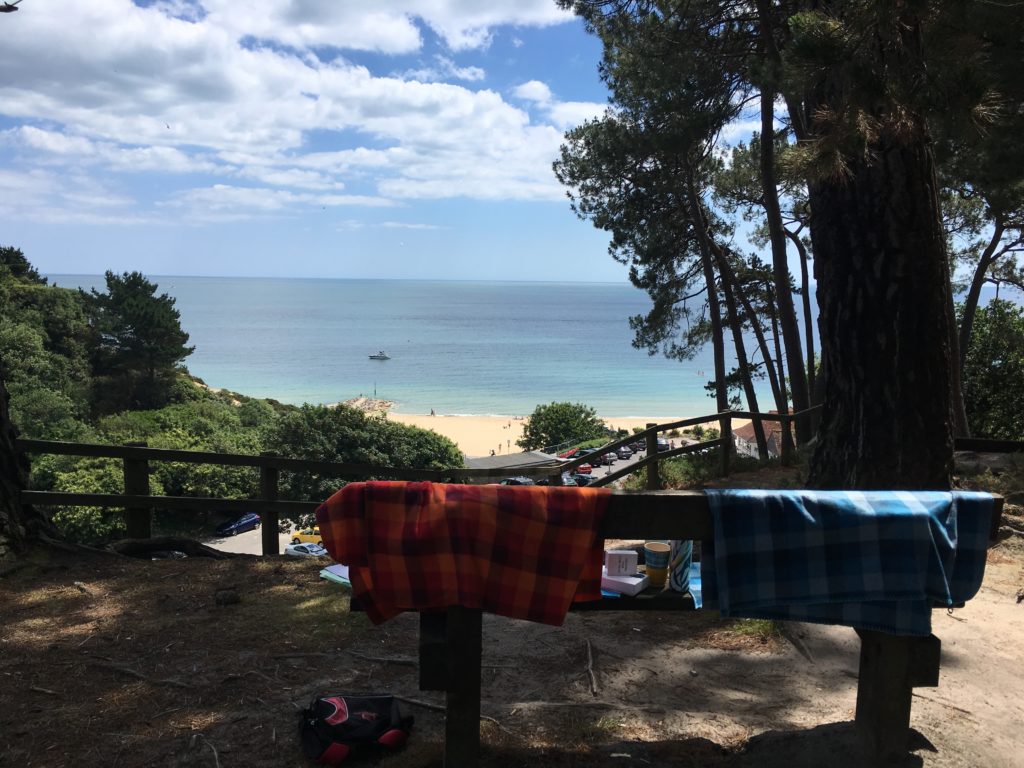 Offering
Coaching is tailored to you. It might consist of just an individual session or part of an ongoing programme.
We will discuss your needs and aspirations during an initial exploratory conversation, as well as assessing our 'fit' together. 
Sheela works both one-to-one and with groups as a trainer, designing and facilitating evidence based, innovative resilience and well-being workshops.  In addition to her extensive experience working with corporate clients, she has recently focused on delivering programmes with Public Health teams, Primary Care Networks and Local Medical Committees across England.    
You can book that conversation in the form below. 
Meetings can take place face to face (on the beach!), over the phone, or via Zoom.
Accreditation

Resources
You can find out more about Sheela's work at www.bluegreencoaching.com and sign up to her newsletter where she regularly shares tips on life management!
Check out this video on what you can expect from coaching with Sheela:  https://youtu.be/ccFOmLFxGsA
Testimonials
"The two sessions I have had 1:1 with Sheela have really helped to build on and personalise the work done via the "Reset, Rebalance, Revitalise" course but I'm sure would be equally helpful as a stand-alone piece of work. Despite having some knowledge in this area, I have struggled to apply it to my own situation. Sheela's gentle, thought-provoking approach helped to clarify some issues for me and formulate achievable goals to improve my work/life balance."
"Putting myself first has the knock on effect of making others happier so isn't as selfish as I thought, I have remembered the awesome person I can be and put myself in her shoes again. Sheela, you have a natural warmth that made it very easy for me to tell you my story. The sessions were supportive and without judgement and enabled me to find my own answers which is very empowering. I have found my confidence and know that this is just the beginning of a bright and colourful future."
"Working with Sheela has been helpful in many ways: some big, some small; helpful in some ways I expected and some I didn't.  I would unreservedly recommend her to any of my colleagues, friends or family."
"I was very fortunate to meet Sheela at a pivotal time in my career during an exciting but challenging period of change.  Her enthusiastic and warm approach to our coaching sessions left me excited and full of ideas to look at optimising work/life balance both immediately and in the future. Her insightful questions and support allowed me to develop strategies for both personal and professional growth, along with ideas to take to work to share with our entire team. Working and learning outside with beautiful views of the Dorset coastline was the icing on the cake.

I would hugely recommend coaching with Sheela to anybody – I have found it invaluable as a GP for my coach to have qualified outside the medical sphere. She has a down to earth, realistic and energetic fresh approach to helping clients identify their values, motivations, goals and aspirations to help us all design our futures to live our best lives. Thank you so much for being an inspirational part of my journey!"
Get in Touch With Sheela for a Free Exploratory Call