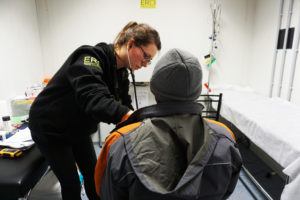 EMERGENCY RESPONSE CENTRE INTERNATIONAL (ERCI) is a Greek nonprofit organization that provides emergency response and humanitarian aid in times of crisis. ERCI's philosophy is to identify the gaps of humanitarian aid and step in to assist in the most efficient and impactful manner. Currently, ERCI has 4 active programs working with refugees in Greece in the areas of Search and Rescue, Medical, Education and Refugee Camp Coordination
Senior Doctor (2 weeks +)
Senior doctor is responsible ensuring high quality care for patients and their family in context of low setting resources, training and supervising other healthcare professionals, collaborating with local authorities and health facilities, reporting to the organisation (ERCI) and authorities.
Your responsibilities:
– Planning, applying and supervising medical activities in both camps; Moria and Karatepe
– Provide high quality care to patients and their family
– Ensure continuity of care
– Co-operate with local authorities ( local health facilities in case of referrals)
– Train and supervise junior doctors and other health professionals
– Report to the head of organisation (ERCI)
– Ensure medical support in Search and Rescue
– Evaluate the provided treatment and adjust if necessary
– Prescribe treatment
– Pharmacy management
– Respect patient information confidentiality
– Coordinating medical emergencies
General Requirements
❏ English Proficiency
❏ 9 hours for 6 days shifts (incl night shifts)
❏ Working in emergency and high discipline environment
❏ Experience in low setting resources preferred
❏ Mobile Phone with Whatsapp
❏ Available for any emergencies
Specific Requirements
❏ 5 years minimum of clinical experience
❏ Male practicing insurance
❏ Ability to respond to emergencies
❏ Ability to work independently
❏ Proficiency in google docs, sheets and similar database software
❏ Flexibility and stress management
❏ Adaptability and teamwork.
Junior Medical Doctor (2 weeks +)
Medical doctors must have the experience and confidence to manage consultations alone (with a translator), ensure medical care to patients and their families in Moria Camp, attend as medical support team in Search and Rescue activities, networking with local medical actors, data collection and data analysis. A senior Greek doctor is always
available onsite for general oversight.
Your responsibilities:
– Provide and deliver care to patients
– Report to the medical coordinator
– Follow-up, continuity of care
– Attend to medical, search and rescue activities including boat landings in the night
– Collaborating with all team and local authorities
– Diagnosis, treatment and prevention
– Complete reports accordingly after each shift.
General Requirements
❏ English Proficiency
❏ 9 hours for 5-day shifts
❏ Working in emergency and high discipline environment
❏ Mobile Phone with Whatsapp
❏ Available for any emergencies
❏ Own laptop to be brought with you
Specific Requirements :
❏ Malpractice insurance
❏ Proficiency in google docs
❏ Sheets and similar database software
❏ Stress management
❏ Flexibility in an under-resourced environments
❏ Adaptability and teamwork
❏ High interest in humanitarian work and refugee rights
Good to have:
❏ Previous working experience in limited resources environments
❏ Language skills: Greek, French, Arabic, Farsi, Urdu, Kurdish
Expressions of interest below:
Submit your application via the application form aid@ercintl.org
Website: Emergency Response Centre International: ERCI