As one of the audience said to me at a recent presentation I gave on my journey with Medic Footprints;
NHS Innovations? Isn't that an oxymoron?
Until recently, the NHS has developed a reputation for stifling innovation, and failing to recognise that the huge talent pool of healthcare professionals it employs, are usually those best equipped to design and implement new technology and processes which can transform the delivery of the healthcare services they provide.
Many of these healthcare professionals are junior doctors, some of whom felt forced to leave the NHS and their training programme behind to pursue their passions to transform patient care.
Professor Tony Young – "a plumber from Essex", was previously one of those junior doctors who designed a sheath for a flexible cystoscopy whilst training in Urology, later to pursue several entrepreneurial projects and become Director of NHS Innovations.
The NHS Clinical Entrepreneur Fellowship developed and managed in conjunction with NHS England and Health Education England was designed to nurture and retain the most forward thinking entrepeneurial doctors, providing a bespoke package of mentorship, coaching, internship opportunities and networking with a wide range of organisations, investors, thought leaders and entrepreneurs.
Over 300 applicants applied, with approximately 95 doctors nationwide passing the interview stage, currently in the matching process for the programme due to start in August 2016.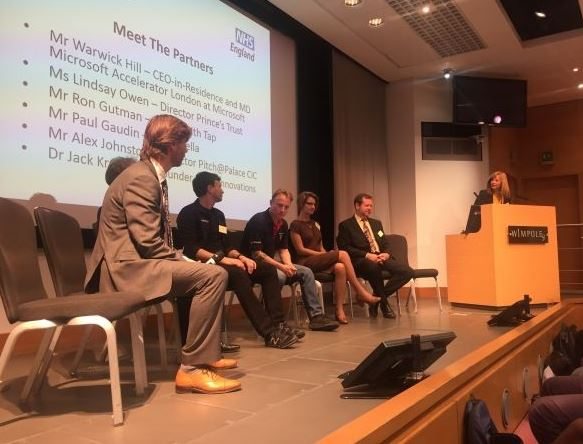 Prof Tony Young leads a panel of Partners chaired by Dr. Liz Mear, Chief Exec of the Innovation Agency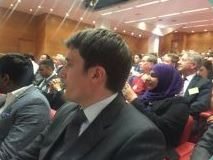 The Clinical Entrepreneur Showcase networking event held at the Royal Society of Medicine last Monday 23rd May 2016, was attended by 300 delegates in the innovative healthcare space; from doctors to innovators, investors, business managers for health tech companies, pharma and serial entrepreneurs who had flown out from San Francisco!
Professor Tony Young, Sir Bruce Keogh – Chair of the NHS, Dr. Liz Mear and Prof Jacky Hayden were amongs the leads designing and supporting the programme, with a panel of English Deans and sample mentors from various companies including Warwick Hill, CEO of Microsoft Accelerator and Ron Gutman of HealthTap.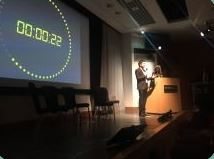 The interactivity element began with an Elevator Pitch competition (see left) where Prof Young exampled a 1 minute pitch of a yellow push bike (suggested by Sir Bruce), followed by 16 junior doctor entrepreneurs, led by myself(!), to pitch their product or themselves.
Speeches were followed with an intense period of networking – an exhausting flurry of activity of exchanging business cards, clinking glasses and placing hope into every new face that was met.
Noticably I was only 1 of 3 women who pitched out of the 16 pitchers, and there were relatively few women as a whole in the audience, consistent with facts that women are half as likely to start new businesses.
Cosima GrettonMany of the entrepreneurs who had pitched originated from a surgical background, which fits with the personality type perceived to be commoonly associated with entrepreneurs – type A.
So it was of no surprise that at the networking section, I was approached by several of the relatively few women in the audience, including Health Tech Women, Cosima Gretton – health tech guru and academic foundation doctor, and Kelsey Taher, COO of Network Locum.
Exhausting as networking generally is, I left at 9pm – the official conclusion of the event, despite a substantial number of delegates who remained engaged in flitting yet seemingly bonding discussions.
I can safely comment that this is one of the very few occasions that I've been in a room of a range of innovative and forward thinking clinicians who are actively encouraged to connect with a truly multidisciplinary world of contacts who have the power to enable their visions for the future of healthcare.
For the future and outcomes of the programme itself… that is yet to be determined.
Will it transform the future of flexible training for junior doctors? – Definitely, maybe!
---
Fancy a different career pathway in the NHS? Check out this article on 8 hidden career opportunities for doctors