It was the best turnout yet for our networking event From Medicine to Property Investment. We had our usual diverse range of doctors – from those curious and looking for some inspiration to those really interested in making some additional income through investing in property! Thanks to everyone that came; hope you had fun and learned some useful tips.
Our speaker Dr Lafina Diamandis, pictured below giving her talk, got into property investment when a family member asked her to oversee a refurbishment for them. Something clicked in her and she really began to feel a passion for it. She started devouring books and information on the subject, going to training courses and from that carved a lucrative career for herself. She is now passing on her knowledge to other doctors who are interested in earning some extra cash (and let's face it who isn't!?)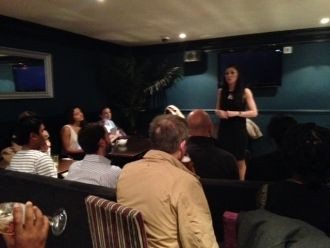 Lafina speaking to our doctors
SO WHY WOULD A DOCTOR WANT TO INVEST IN PROPERTY?
Lafina prescribes to the 3 C's
Cashflow – rent from a property can provide you with regular cash inflows
Capital Appreciation – properties almost always increase in value over the long term (even factoring in market crashes)
seCurity – wouldn't it be nice not to have to rely on your pension but to have a tangible cash producing asset?
HOW DO YOU GO ABOUT INVESTING IN PROPERTY?
Research and doing your homework on the property and the market in the local area is imperative. Think about the following factors:
Discount – it is of course better to buy at a discount to market price, as this already increases your profit before you even begin!
Cashflow – are you looking for regular small cashflows or to buy and sell relatively quickly?
Supply – is there proper supply in the area that you are looking to buy?
Rental demand – it is no use buying a property to rent out if there is no demand for it in that area!
Close to home – it's easier to manage, the closer you are to the property!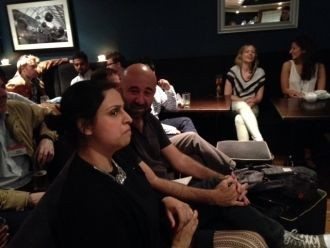 Some of our doctors in discussion
PROPERTY INVESTMENT STRATEGY IDEAS
Sourcing – finding a deal and presenting to someone else for a commission
Buy to Let – most will have heard of this term: buying a property for the purpose of renting it out
Below Market Value – buying a property at a discount
Buy, Refurbish, Refinance – buy a house, do it up and the value increases
House of Multiple Occupations – lease of a whole property from the landlord for a period of 2 to 3 years usually, then leasing each room within the house out separately.
Thanks Lafina, you gave us some great ideas and food for thought! We will also be conducting a short video interview with Lafina, which we will post online once ready, so keep an eye out for it!
Don't forget to sign up to our next event –
From Medicine to Private Practice in Aesthetics – Dr Zack Ally, founder of Derma Medical will be sharing his experiences with us on 19th June 2015. See you there!
Join us on Meetup