It was a great turnout for our networking event on From Medicine to Management Consultancy. As usual, we had a diverse range of doctors attend from those who just wanted to see what else is out there career wise to those already invested in the idea of becoming a management consultant. So thank you to all those who attended!
We had three speakers from different management consultancy backgrounds:
Azra from Deloitte (one of the Big 4 firms), who works in operational level healthcare consultancy within the firm. Having joined 7 months ago, she's loving her experiences so far!
Jayanie, who works within a boutique healthcare management consultancy firm
Vishaal, a post F2 doctor who entered a boutique healthcare focused management consultancy 18 months ago.
Thanks guys, you did a great job! Each talk brought a different perspective on what it's like to enter the commercial world. If you would like to see Abeyna's video interview with our three speakers, then follow this link.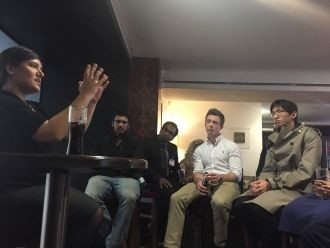 Azra speaking about life at Deloitte
SO WHAT ARE MY TOP TIPS FOR GETTING INTO MANAGEMENT CONSULTANCY?
Research, research, research – employers want to see that you've thought things through! Know what a management consultant does, both at a high level and on a day-to-day basis; look at the different types of consultancy firm out there (do you want a Big 3 firm, a Big 4 firm, or a smaller boutique firm?)
Read business case studies – your interview is most likely to be case study based i.e. you will be given a business scenario and asked to find creative soltuions to issues in the case study. I recommend that you google "Management Consulting business case studies" or look here for some examples.
Start thinking about your CV – corporate CV's tend to be shorter (2-3 pages maximum) and focus upon the relevant skills that you have picked up from your various exployments and extra-curricular activites. For advice on corporate CV's, please feel free to contact me.
Start reading business newspapers/magazines – the Financial Times, The Economist etc. This will help you manifest your interest in the commercial world outside medicine. Pick out interesting articles and think about the "back story".
If any of you feel that you're seriously ready to consider a career in management consultancy, please contact me. I'm happy to advise on making your CV more corporate, how to survive competency based interviews, and how to make contacts with management consultancy firms.
I can help you out if you're interested in one of the Big 3 firms or a more boutique firm. Often, rather than sending out speculative applications, it's easier to get referrals straight there, killing multiple birds with one stone!
Don't forget to sign up to our next event –
From Medicine to Property Investing. The talk will be from the lovely Dr Lafina Diamandis (picture below), who will tell you how to invest with no start up capital. Free gift for the first 10 attendees. Link below. See you there!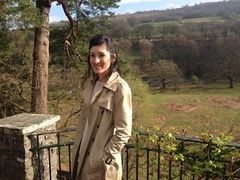 Dr Lafina Diamandis
Sign up via Meetup