A JOINT ARTICLE BY PEACH PERERA AND SARA SABIN
On Saturday 19th December, our team here at Medic Footprints went to 'Medicine: Stay or Go', a conference held at Charing Cross hospital by Eurekadoc and AA7 London. Delegates were placed on a career decision see-saw for the day, hearing talks from clinicians who had chosen to leave Medicine completely, those who had stayed in the profession but diversified their careers, and those who had stuck it out in the NHS.
MEDICINE: SHOULD I GO?
A TALK FROM EVGENIA GALINSKAYA
Evgenia kicked off the day with that all important question from our ACW event: 'Do I really want to leave Medicine?' She described the daunting process she went through in her transition from dermatology registrar to full time career coach.
She began her bid for freedom by experimenting with management consultancy – mainly because it seemed a sensible plan B, but she found it incredibly dull. It was only when someone asked her "What do you really want to do?" that she felt able to be honest: she wanted to help people – just not as a doctor. So, Other Options for Doctorswas born.
All jobs are temporary if you think about it. You can fail at anything, whether you love it or hate it, but if you fail at something you love, you're more likely to pick yourself up
A TALK FROM AROON BASKARADAS: MANAGEMENT CONSULTANT
An ever popular choice for doctors is management consultancy. Read our blog on preparing your CV.
Aroon left Medicine with not much idea of what to do. While considering options, he completed a Masters in Education, before going into Management Consultancy. He now works as a Healthcare Advisory Manager for Ernst and Young, and is also doing an MBA at Imperial College.
For any doctor thinking about it, do your research! There are different types of Consultancy and many different firms that have a record of hiring doctors. The 'Big 4' auditing firms include KMPG, Deloitte, EY and PwC. Then you have the dedicated big consultancies, like McKinsey, Bain and BCG; or the specialist medical consultancies like AbedGraham and Mansfield.
You need to think about where you may fit in!
A TALK FROM DR SAIF ABED
Dr Saif left medicine and set up the consultancy business AbedGraham.
He left 4 years ago with a clear vision in mind and the knowledge that he would never thrive in an NHS environment.
Now his company advises large IT companies in user experience technologies, including a lot of NHS and clinical work, and the value of his client portfolio now exceeds £150 billion. He makes no secret of the hard work and dedication it's taken to get to this stage. He says:
If you're trying to build a blockbuster business, it's binary. You're either in or you're out
His attitude was perhaps shocking to a room full of medics, but also refreshingly honest and a weighty counterbalance to a profession that is constantly told to put the needs of others before their own. Saif is now hiring doctors– previous experience is not necessary as you will receive full training. Check out the website for more information.
A TALK FROM ZACK ALLY
The problems with Medicine include the hours, audits, bleeps, Jeremy Hunt and pay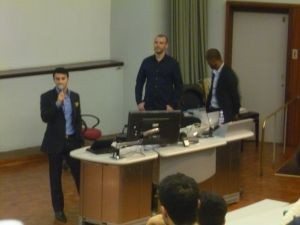 Despite all this, Zack's specialism in Aesthetic Medicine allows him to continue NHS work while supplementing both his income and his sanity with his own impressive private venture.
He noticed that cosmetic procedures in the NHS are increasingly bring referred to private companies because they are seen as 'luxury' treatments, but some conditions such as hyperhidrosis can really degrade someone's quality of life. In Zack's view, why pay someone else to treat your patients when you could do it yourself?
Zack's company, Derma Medical, runs aesthetic medicine training courses. In a weekend, he can teach you the 18 basic procedures for £620, after which, he said to a very surprised audience, you are fully qualified as an aesthetic doctor! Forget the years of training! Derma Medical's contacts are there to find you instant work and will get you started with a free start-up kit. Click here for more information.
A TALK FROM DR YOGINI PATEL
I realised my whole life revolved around my medical career, but I didn't feel like I was making the impact I wanted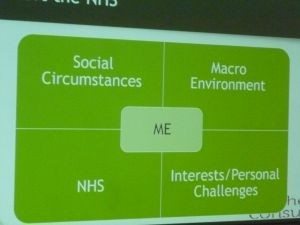 She believes that the key to career satisfaction lies in navigating your way through all the external challenges thrown at you. Where do you fit into the matrix?
Since leaving, she has worked for International SOS, a company that provides emergency medical assistance for people working or travelling abroad. She found the advert for this job at the back of the BMJ and went for it.
During her time there, she worked as a first responder for corporate events, trained pilots and crews for private jets and was involved in the ebola crisis. She worked long hours but loved it as she felt like she was making a real difference!
MEDICINE: SHOULD I DIVERSIFY?
There are doctors that fly the flag out there for staying in the NHS and having other careers outside of the NHS; and doctors that have left the NHS and are returning once more.
A TALK FROM DR MATT PRIME
Disenchanted Matt, an Orthopaedic Registrar took an Out of Program Experience, to work as a Surgical Fellow in South Africa.
He returned with a new zest for life,  and he set up etrauma, a platform for centralising and simplifying trauma coordination. He also researched global health innovation and became an advisor for the user experience technology developer, Helix.
For Matt, having a parallel career pathway to medicine is partly an insurance policy. With NHS Consultant salaries 20% lower than they were 20 years ago, and medical litigation on the increase, Matt feels he and his family are protected by having another aspect to his career. He works one day per week in clinical practice, which pays the bills.
A TALK FROM DR ABEYNA JONES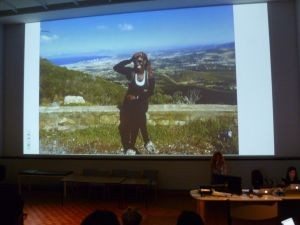 Our very own Abeyna gave us her story. Initially on track to become a surgeon, Abeyna too went to South Africa after Core Surgical training – learning a lot and having a ball along the way!
Abeyna embarked on urological oncology when she returned, but as the NHS began to take its familiar toll, she made the tough decision to retrain in Occupational Health. With the kinder work-life balance, it allowed Abeyna to set up Medic Footprints with her friend and business partner Sara Sabin.
Originally Medic Footprints started off as a platform to help doctors to work abroad as Abeyna did. However, when they saw the huge appetite, the alternative careers and the lack of wellbeing resources for doctors, they seized the opportunity and got the organisation to where it is today. Abeyna charts her greatest achievement so far as being the ACW conference in October 2015, which inspired doctors to diversify, while giving them the tools to manage the pressures and stresses of NHS work.
My only limiting factor is myself.
A TALK FROM DRS STEPHANIE ELTZ  AND SUMAN SAHA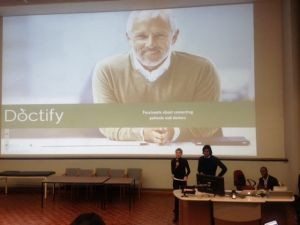 Stephanie and Suman are the co-founders of Doctify, a sort of Trip Advisor for Doctors. Stephanie still works full time as an orthpaedic registrar and somehow manages to find time to run Doctify as well!
She loves the challenge of doing both things at the same time and she says she could not go back to just practising medicine by itself.
For Stephanie and Suman, being successful at something managerial has been admired rather than criticized by their colleagues, because it gives doctors a voice in a system where they don't always have one.
Stephanie will be at our Enterprising Doctors workshop on 12 March, and will be happy to answer any questions you have about starting business or getting investment.
A TALK FROM DR LAFINA DIAMANDIS
Since finishing F2, Lafina has been searching for the right career for her, and in the process she has helped other doctors do the same by founding Eurekadoc, the only UK publishing house dedicated to printing 'niche' career guides for doctors.  Some of their upcoming titles are: Management Consultancy for Medics, How to become a Space Doctor, & How to become a Media Medic!
"The skills you learned and developed in med school can be applied absolutely anywhere."
She left Paediatrics to take an Out of Programme Experience career break. During this time she moved to Spain and set up Boutique Property Services (looking rather glam whilst advising on property!), the experience of which later inspired her book on Property Investment for Doctors due to be published this Spring.
Now Lafina is in the process of returning to Paediatric training, and despite having time out, this was not an obstacle to finding work in her specialty in central London. This may be because she 'kept her hand in' over the years by locuming, but even for people who haven't worked for a while, locum agencies can help you revalidate and keep up to date with mandatory training.
MEDICINE: SHOULD I STAY?
I think one of the overarching messages from these talks is that; if you're passionate about being a doctor but you're unhappy with external factors, then SPEAK OUT because you have the power to change things.
A TALK FROM NESLYN WATSON-DRUEE
I was thrilled to hear a talk from the much acclaimed Neslyn – honoured by the Queen no less than three times! She is a high performance executive coach but has packed so much into her career, she is truly inspirational.
She left the NHS in 1989 after one of her managers told her that as she was black, a woman and intelligent; she would be blocked. So she became an entrepreneur.
What were her three top tips:
1. Invest in yourself – be clear about your passion and purpose
2. Be clear about your vision and carry it out with love and integrity.
3. Plan your success – "Be your best you". Neslyn gave us a great quote
Vision without action is only a dream; action without vision passes the time; action with vision changes the world.
So how can you be an effective NHS leader?
Share your perspective with the people in charge – suggest coffee with the CEO and do not take no for an answer!
A TALK FROM DR ROSHANA MEHDIAN
Roshana is a doctor who has spoken out against the Junior Doctor Contracts. Her talk followed on nicely from Neslyn's speech; if you don't like something it is in your power to speak out and change things.
She urges you to think about what you will stand for and what you won't stand for. That's why she started speaking out, asking questions, stopping chief execs in the corridor of the hospital where she works.
If you're willing to speak out, you have power!
You have to DO something – take action and give yourself a voice because no-one else will!
A TALK FROM DR NATASHA PATEL
Natasha is a passionate diabetes consultant.
She rightly points out that your challenges will continue – so know what your values are and it will help you survive.
She also emphasises that there is support there for you – consultants are right behind you supporting you in your fight against the proposed contracts.
If you reinvent the NHS, then it has more of a chance of becoming what you hope it will be. Join a think tank; instead of complaining, get your voice heard! It is the junior doctors that will ultimately change the NHS. Each politician is only around for a short time, but doctors will be around for decades!
You cannot escape the responsibility of tomorrow by evading it today
A TALK BY DR GOLI HADERI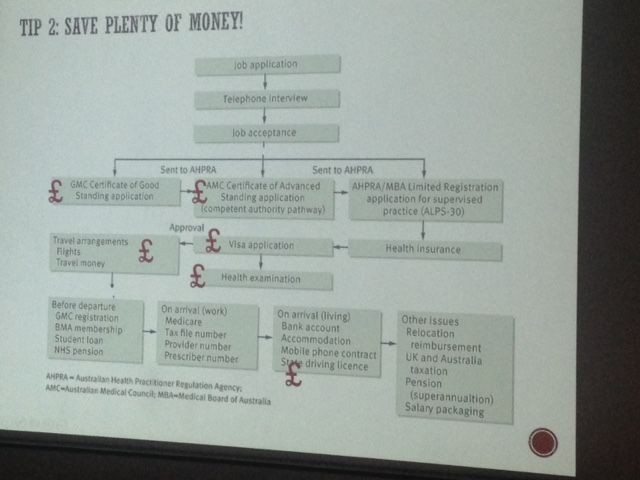 Goli as a doctor that has worked abroad in Australia and South Africa gives some top tips for going to practice medicine overseas.
Tip 1: Leave plenty of time. 6-12 months for Australia and even longer for South Africa
Tip 2: Save plenty of money. You will need money to apply for visas, get notarisation of documents, put down a deposit on a rental property etc. Make sure you have enough money to cover everything!
Tip 3: Be prepared to work hard and potentially go outside of your comfort zone. Doctors are used to working hard, so bring that attitude overseas with you – there will be time for play and travel but you're there to do a job!
Tip 4: Enjoy the perks. It may be that as well as your salary, there are a whole range of additional perks that you can expect.
Tip 5: Consider your career – is this move temporary or permanent?
ANOTHER WAY OF APPROACHING WORKING IN THE NHS THROUGH DIVERSIFYING
A TALK BY DR JENI KATHESWARAN
Jeni works for the World Health Organisation ("WHO") and is currently doing research into neck and back pain and the link with diseases causing the most economic burden.
She decided early on in her career to diversify and study Health and Financial Policy at the London School of Tropical Medicine.
Many sacrifices were made along the way by her – in terms of money, time and opportunity but she feels that they were worth it.
If you really are interested in being a future NHS leader, then you can progress faster having worked for the WHO. Something to consider? Diversification rather than leaving the NHS entirely?
A TALK BY PHIL CARTER ON DOING AN MBA
A few of the doctors speaking during the day were in the process of undertaking an MBA – there are multiple reasons for taking an MBA; from wanting to work in Finance to being an entrepreneur to even continuing to work within the NHS.
Dr Natasha Patel, a fulfilled diabetes consultant wanted to do the MBA so that she could understand "management speak" and apply business principles to healthcare; therefore communicating more effectively to influence and change hospital policies.
Imperial University offers a weekend MBA course for those with at least 3 years work experience.
In terms of covering costs, in some cases hospital deaneries will cover costs if you can present a business case for you doing the MBA. Worth thinking about!
SO WHAT NEXT?