A big thank you to our presenter Tet Yap, consultant urologist and publishing powerhouse, for his inspiring talk at our networking event on Wednesday 8th July. Also, to our delegates that made it despite the tube strikes causing havoc in London!
I wanted to summarise Tet's journey into magazine publishing, which believe me is not easy, as this is really someone who has done it all!
COMBINING MEDICINE AND WRITING AND PUBLISHING
Tet grew up in Singapore, where he grew up with a keen interest in the synergy between music, culture and fashion. However, he also always knew that he wanted to be a doctor and felt it was an honour and a privilege to be able to positively impact people's lives. So he studied medicine at Cambridge University. Whilst studying there, he did writing on the side (music reviews for a Black & Asian magazine at the University).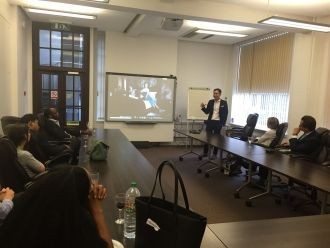 Tet holding the attention of the room
When he had finished studying and started his training, he combined a number of different projects on the go:
Medical training – at Addenbrooke's and Middlesex Hospital
DJ'ing and Club Nights – Tet joined an arts group called Tesco Disco, which branched out into club nights in Dalston, and then throughout Europe. These nights became so popular that they featured in GQ and Vogue.
Writing – whilst at Paris Fashion Week doing an article for Kaye magazine for which he was writing articles on music and fashion & shopping, he met the editor of Vogue China and started writing for them. He became London editor of Vogue Men's. Although, he was able to interview such fashion power houses as Donatella Versace and Karl Lagerfeld, he did not like some of his assignements and wanted to take more control. So….
Publishing – he founded an avant garde magazine called Wound. This project although short lived was a valuable learning experiene for Tet.
Throughout all of the other things going on, Tet finished his MD, as he remained truly passionate about Urology (and won a few prizes along the way!).
It was at this point in his life that he started the luxury magazine, Glass. The magazine has two editions – for Europe/North America and Asia. A luxury magazine geared specifically to the Asian market was a novel idea at the time. Tet was the editor and publisher of the magazine and as you can imagine, there was no time to rest.
After a personal tragedy, he realised that it was time to slow down and now Glass is largely run by his team.
Having read the magazine, not only does it look beautiful but it contains thought provoking articles such as "What is belief?" and each edition also features a humanitarian article.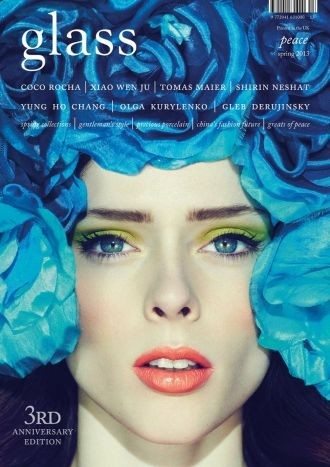 One of the Glass Magazine covers
WHAT CAN WE LEARN FROM TET?
Firstly, what struck me as a non-medic, was that Tet was able to do everything because quite simply he was passionate about everything that he was doing. Yes, obviously good time management was key but there is a message there that all of us can relate to; don't waste your time with something that you know is not right for you. It brings you down, makes you lethargic. Like a cancer, it just has to be cut out.
Secondly, know when to walk away from something. Not everything you do will be a success. Learn from failures, use them to develop and move on.
Thirdly, remember what's important. Different things may be the "right" thing to do at different points in your life. If it's time to slow down, then do it. If you want to start your own business, take steps today towards achieving that! Remember as well, the people that are there for you and support you through it all!
If you are interested in Glass magazine, check out the link.
NEXT EVENT
Our next event will be on Saturday 19th September (we're taking a break during August) and will be a chance for you to pose career questions to a panel of career coaches! Keep an eye on our Meetup group for further information.