Gaurav Malhan is a Forensic Psychiatry trainee who is also the founder and co-creator of the smartphone app Mapem.
Gauruv was a finalist for Entrepreneur of the year and Health tech startup of the year at ACW Awards 2016.
I met Gauruv Malhan over a coffee on a cold February afternoon. Between working full time as a forensic psychiatry trainee and running his current creation mapem, he was getting ready for a well-deserved weekend break; so time was short.
I jumped straight in and started by asking what is it about Forensic Psychiatry which made him pursue that speciality.
Gauruv replied with one word "eccentricity."
He goes on to say that the problem solving and complexity of managing such patients drives his passion. It isn't just about managing the patient in front of you, but also the management of risk to that patient, staff and members of the public.
Of course, the "danger" and the "drama" makes the job thrilling, with no day being the same.
Despite working full time throughout his medical training, Gauruv has nearly always had some business venture running concurrently. During medical school at St. George's, he ran some successful fashion ventures.
Whilst working as an ENT FY2 in 2013, he was becoming increasingly frustrated by trying to find concise antibiotic guidance.  This led him to trial a few phone apps, which he found to be clumsy and it was through this that he came up with the idea of mapem.
The app now has a whole range of management guidelines and medical calculators.  It is in the process of developing a phone directory for each hospital, and an easy to search function for up and coming conferences.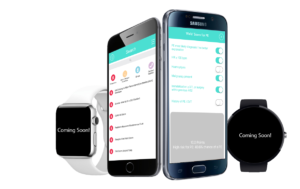 Developing the app is not easy. He spends 2-3 hours a day in addition to his day job, working on it and liaising with his team.
Where has mapem taken you?
"Loads of places! Over the past couple of years, I have presented at several international conferences on Patient Safety. I have presented it to several hospitals and received tremendous feedback. I have been asked to speak about mapem and being a fulltime trainee at several different events for the disillusioned medic.
Renowned online medical communities such as LITFL (life in the fast lane) have praised it. I have also been accepted into the NHS Clinical Entrepreneur Fellow Programme."
"Most importantly, I have been absolutely privileged to have worked with, and met, a number a phenomenal doctors and medical students."
Given he works so hard, I was interested in knowing if he ever has any downtime?
"Yes!"
And what can you not live without?
"Music, food, jogging and Iberico jamon…In that order…. or maybe the reverse order."
Asked why he wanted to take on additional career in addition to medicine.
"Medicine just simply wasn't enough. There are only so many times I can prescribe Trimethoprim for a UTI and find it interesting.
I have always been interested in creating products, including at medical school and was always interested in the bigger picture. To see a problem and figure out if there was a better solution rather than just blindly accepting the status quo. Having said that, if it wasn't business; knowing me and my pseudo-ADHD, I would have found something else to get me into mischief!"
I asked Gauruv what advice he would offer others hoping to diversify or to leave medicine.
"Write your ideas down and sit on them."
"Write your ideas down… and obsess"
Create folders of ideas and then divide further with subfolders.  Come back to them in a few months to a year and decide if you still feel that way. If you do, do your research and start considering how you can put your plans into action.
If you are considering setting up a business, the principles are the same. Draw up a business plan with costings. Think about why your idea is different from what is already on offer and finally "obsess" over your idea.
With such sound advice, our interview ended as he rushed off to pack for his weekend away.
---
If you're considering starting up a business alongside your clinical training, why not join us this April for our Startup Business Workshop for Doctors