Find out how to get into Pharma in just over 1 hour by watching our online webinar recording!
Have you ever wondered about a career in pharma? You like the idea, but aren't sure where to start?
Medic Footprints is delighted to present this pre-recorded interactive webinar on how to turn your aspiration into reality.
Featuring Dr. Marc Watson, UK Pharma Medical Safety Director at GSK; Dr. Kathryn Lang, Medical Affairs Manager at Pfizer and Dr. James Relf, Pharmacovigilance Physician at Boehringer Ingelheim, our experts will share all the information you need to know, including:
Detailed overviews of key sub-sectors within the pharmaceutical sector, including medical affairs and pharmacovigilance
Personal stories from our experts about how they made the transition into pharma
A typical day in pharma, including key tasks, skills, responsibilities, challenges, culture and more
Entry avenues into pharma roles including details about qualifications and training pathways
Benefits of attending this webinar include:
Developing a sophisticated understanding of the sector as a whole
Understanding the skills you need to catch employers' attention and how to refine them
Knowing how to leverage your experience as a medic to maximum effect
The webinar is just over 1hr long and can be watched in the comfort of your own home
So, if you've ever thought about a career in pharma, this is the perfect opportunity to use this insider knowledge in turning aspiration into reality.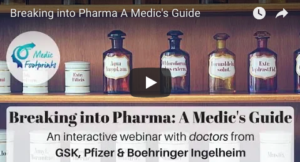 Guests / Complimentary Members – £20
Medic Footprints Monthly Members – £6
Medic Footprints Gold Members – FREE
Medic Footprints Platinum Members – FREE
(Members, please email mfmembers@medicfootprints.org to retrieve your link)
Otherwise, guests please purchase the webinar below to receive the link to the video.