Following on from the success of the #enterprisedocs "Introduction to becoming an Enterprising Doctor" workshop in February 2015, we listened closely to some of the feedback that we received, which very firmly pointed towards doctors wanting more opportunities to network. It was nice to see some of the doctors from our workshop there!
Our first networking event took place on 26th March. Special thanks to Thomas International for hosting the event at their offices (and putting on a great spread!) and to Stephanie Cattlin for a very interesting and in parts hilarious presentation.
Thomas International offers personality based assessments for employers and employees to determine their strengths, weaknesses and how to unlock your potential. As a doctor, if you need some guidance on your current career and if it suits you, it's an interesting assessment to undertake. It only takes about 10 minutes to do, so I did it and believe me, it was scarily accurate!
ALTERNATIVE CAREER IDEA
For those of you that are into medical dramas, there is a new Sky 1 series called Critical, that Stephanie was fortunate enough to become involved in. As an anaesthetist, with experience of writing, she fell into it by accident, when one of her medic friends who is a scriptwriter for the show put her forward. She worked as a Medical Advisor for the first series, along with a team of other medics and couldn't speak highly enough about what a wonderful experience it was and how her opinion was really sought after and valued. It's an interesting thing to consider, either as a full time or part time pursuit for any doctors with an interest in film and/or writing.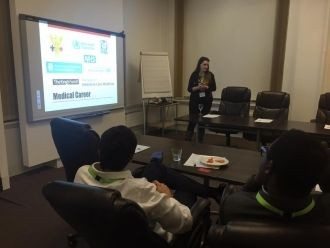 Click here for a 3 minute video interview on the day with Stephanie about her experiences
In fact, one of the main actors on the show, Prasanna Puranarajah was a former medic. It just goes to show there really are some diverse options out there for doctors to take your experience and apply it in a completely different way!
For those who want some direction on where to look for these alternative opportunities, Stephanie recommended Doctors.net, which has some interesting ideas for doctors and of course, Critical is likely to be looking for helpers for Series Two soon, so it's worth getting in touch if it is of interest.
NETWORKING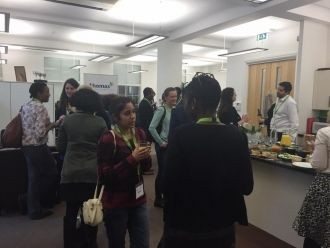 As well as the opportunity to eat, drink and mingle; we also had some structured networking activities for our doctors to try.
Speed dating – each "couple" answered two questions: what makes you happy about being you? and ideas for future career development? Generally, people wanted to talk for a lot longer than two minutes but I was being strict with the time! Sorry chaps, I hope you get the chance to continue your conversation at another time.
Doctors supporting doctors – at the start of the session, all delegates placed a work related fear in a hat. Abeyna read out some of these fears which included 'Burnout', 'Not getting a Consultant job in London' and 'Not being able to change the world'.  One or more of the doctors tried to give their solution to the fear. It always helps when you feel alone or trapped to find out that there are others that feel the same, and perhaps they can offer you a new perspective that you hadn't thought of before.
A few of our doctors specifically mentioned their problems with burnout during their career and they have exchanged contacts in order to start a group discussion on the issue. Good to get it out in the open, as it is something that is not talked about enough.
FUTURE EVENTS
We have two more scheduled events:
On 21 April 2015, doctors considering a career in management consultancy. We have a few speakers lined up including a former doctor turned Deloitte management consultant will be speaking. Sign up via our Meetup group.
On 13th May 2015, doctors considering investing in property development; speakers Dr Lafina Diamandis (property guru extraordinaire) and myself talking about tax on properties. Venue TBC but save the date.
Thanks to all!