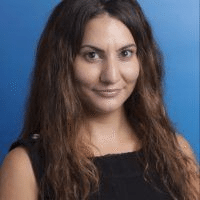 Join us for an evening with Thalia Georgiou, who has over 12 year experience in healthcare. Ex NHS Leadership and graduate of the UK's prestigious NHS future leaders programme. Ex Head of KPMG's healthcare practice in Hong Kong – working across the health community – with private and public providers, Health Insurers and Government to support change and transformation.
Currently developing Asia Care Group, a new consultancy venture aimed at providing affordable, professional advisory services to the healthcare sector in Hong Kong and the broader Asia Pacific region.
---
Thalia's passion is helping to mentor entrepreneurs allowing them to achieve their goals and help their businesses grow.
She will cover during the evening:
The Future of Healthcare
What Global Trends Mean for Aspiring Entrepreneurs
4-5 Major Emerging Trends
Explanation of what Opportunities and Risks these present
How to Position a Company Effectively
Observations on making a Business Idea Successful
---
The evening will include our usual structured networking exercises, allowing you to exchange ideas with an audience of like-minded people! That, after all is why you're there.
Venue 5th View, Waterstone's, Piccadilly, London.
Tickets £10 in advance.