Medical Salaries and Employment in Australia
The income of a doctor in Australia is lucrative and it is usually based on the number of hours and patients that they may see. If we take into consideration the packaging salary  as well, the salary will be substantially increased.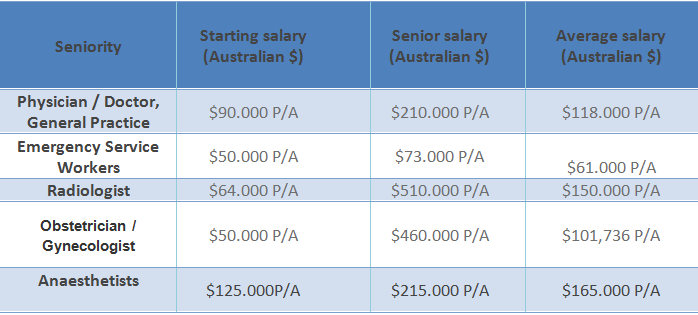 Other salaries can be found  here.
You will also enjoy some incentives:
Below is a description of hierarchical roles in the Australian Medical Service.
Intern:  A medical practitioner who has recently graduated from medical school, holds a certificate from the Medical Board of Australia and is learning medical practice in a hospital under supervision.
Junior House Officer: Medical practitioners in their 2nd post graduate year and  in their first year of service after eligibility for full registration.
Senior House Officer:  Medical practitioners in their 3rd post graduate year and in their second year of service after eligibility for full registration.
Principal House Officer: Medical practitioner who is not leading to a higher medical qualification and is not undertaking an accredited course.
Registrar: Doctor who is leading to a fellowship of a specialist medical college and is undertaking an accredited specialist training program in a clinical specialty with a nominated college.
Senior Registrar:  Medical practitioner in an accredited course of study leading to a higher medical qualification   who has  specialist registration with the Medical Board of Australia and has successfully completed Part One of the requirements for admission to a fellowship
Fellow is a Medical Officer who is in his  2 years of preparation after the successful examination as a Fellow of an Australian Specialist College and has not yet been appointed as a Staff Specialist
Senior Medical Officers (SMOs) :
General Practitioners
Staff Specialists
Career Hospital Doctors
PROMOTION AND SUPPORT PROGRAMMES FOR OVERSEAS TRAINED DOCTORS
International Recruitment Strategy (IRS): The objective of this programme is to increase the number of appropriately qualified Overseas Trained Doctors (OTDs) providing Medicare services in Districts of Workforce Shortage (DWS) across Australia.
Click here for more information.
OTD Scaling
In order to access Medicare benefits it is offered to OTDs and Foreign Graduates of Accredited Medical Schools (FGAMS) to reduce the 10 year moratorium restriction period. Time reductions are significantly greater for doctors who choose to work in more remote areas.
Click here for more information.
5 Year Overseas Trained Doctor (OTD) Scheme
With this scheme doctors can reduce the moratorium depending on the category:
Category A For locations which experience difficulties recruiting GPs. Doctors in this category  can reduce the moratorium from 10 to 3 years.
Category B For communities with specified criteria. Doctors can reduce the  moratorium from 10 to 4 years.
Category C Covers specific locations and areas within the parameters set by the State or Territory health department. Doctors in this categogy  must serve 5 years.
Rural Locum Relief Program (RLRP)
This program allows permanent resident doctors to work as General Practitioners (GPs) in rural and remote areas while they are working towards their GP Fellowship.
Bridging courses
Bridging courses are short courses ( from 10 to 26 weeks) that aim to help OTDs following the Standard Pathway, to complete the Australian Medical Council (AMC) examinations.
AMC Multiple Choice Question (MCQ) examination.
AMC clinical examination.
Organisations offering bridging courses:
DEFINITIONS
Medicare
Medicare is the scheme through which doctors registered in Australia are enabled to prescribe drugs, order diagnostic tests and refer patients to other doctors as well as to be eligible to have Medicare benefits. In order to enjoy this scheme, doctors need a Medicare Prescriber number given by Medicare Australia and serves both to doctors employed in general practice and for private specialist practice.
Overseas Trained Doctors can't obtain a Medicare Prescriber number unless they work in an approved District of Workforce Shortage (DWS).
To learn more about what Medicare is and what it covers visit the following websites:
Department of Human Services Australia
District Of Workforce Shortage (DWS)
A District of Workforce Shortage are areas that have a lower doctor population ratio than the national average. Thus the general population have less access to GPs. It  is determined by the Commonwealth Department of Health (DoH) (Federal)
Area Of Need (AON)
Area of Need is position based not location based. Under Section 67 of the Health Practitioners Regulation National Law Act 2009, the Ministers Delegate may classify a medical position as an AoN, to permit an International Medical Graduate who does not meet the minimum standard for medical practice to be registered under Limited Registration with the Medical Board of Australia.
It is required that health service providers who face  medical workforce shortage can demonstrate they have been unable to recruit an Australian medical practitioner or an IMG with general registration into that specific position.
All positions requiring AoN declaration must be first classified a District of workforce Shortage (DWS).