Medical Registration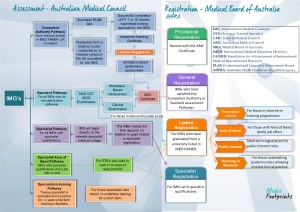 Approaching the task of applying to the Australian Medical Council (AMC) is no easy feat. Even if you received your primary medical degree from a comparable country of health, mistakes in your application can potentially afford you significant time delays.
Click on the image to the right to view a summary on how to approach medical registration in Australia.
ASSESSMENT – AUSTRALIAN MEDICAL COUNCIL (AMC)
International Medical Graduates (IMGs) have 5 registration pathways available to them;
1. The Competent Authority Pathway is aimed at non – specialists who have completed their training abroad. It is also valid for specialists, including the General Practitioners (GP's). If you have passed the examination or you've gone your practice through an AMC designated competent authority can apply to the AMC for assessment under this pathway.  In the UK, the AMC-designated competent authority is the General Medical Council.
2. The Standard Pathway is generally for non-specialist IMGs seeking general registration in Australia who do not qualify for the Competent Authority Pathway. Under this pathway, the AMC offers two alternatives to get  the AMC certificate:
AMC examinations. Assessment is by examination only—the AMC CAT MCQ Examination and the AMC Clinical Examination. Once the AMC MCQ is complete, IMGs are eligible for limited registration under certain circumstances.
Workplace-based assessment. Assessment is by examination and workplace-based assessment accredited authority
Eligibility
Applicants must have  completed the requirements for the award of their primary qualification at a training institution listed in the International Medical Education Directory (IMED) of  the Foundation for Advancement of International Medical Education and Research (FAIMER).
Applicants were issued with a final or provisional primary qualification by their training institution.
Assessment process
Once the AMC assesses your application and check your primary medical qualification by the ECFMG International Credentials Services (EICS), the AMC determines that you are eligible for the Standard Pathway and pass the CAT AMC MCQ Examination.
Once approved you may submit to the AMC Clinical Examination or undertake workplace-based assessment.
After passing all of the Assessment components AMC will issue you the AMC certificate that will allow you to apply to the Medical Board of Australia for general registration. For further information visit the AMC website
3. The Specialist Pathway is open to overseas trained specialists (OTS) whose qualifications have been partially recognised by an Australian specialist college
All applicants must have a primary qualification in medicine and surgery from a training institution listed in the current International Medical Education Directory (IMED) of the FAIMER.
All applicants must have satisfied all the training and examination requirements to practice in their field or specialty in their country of training. Otherwise applicants may be elegible to apply for the Standard Pathway. Applicants must have been assessed by an AMC accredited specialist college. The Medical Board of Australia makes the final decision on whether to grant limited or specialist registration. For extensive information visit the AMC website.
4. The Specialist Area of Need Pathway is open to OTS overseas trained specialists seeking work as an Area of Need specialist
5. The Specialist-In-Training Pathway is for  overseas trained specialists and specialists‐in‐training who wish to undertake training in Australia for a limited period. Applicants must have been assessed by an AMC accredited specialist college.
To determine which pathway to take, visit the AMC Self-Check page.
REGISTRATION WITH THE MEDICAL BOARD OF AUSTRALIA (MBA)
There are a range of different types of registration to match it with different levels of training and experience:
a) General registration: Medical practitioners with general registration can practise in any state or territory in Australia. International Medical Graduates who have completed the requirements of the Competent authority pathway or the Standard pathway can apply for General Registration. Forms for General Registration
b) Specialist registration: Specialist registration is available to medical practitioners who meet the eligibility and qualification requirements.  See the  approved list of specialties, specialty fields and specialist titles for medical practitioners approved by the Ministerial Council:
c) Provisional registration: In order to become eligible for General Registration you must complete 12 months of supervised practice. You can apply if you hold an AMC certificate. The AMC certificate is awarded to IMGs who have successfully completed all components of the AMC examinations or the AMC CAT MCQ and workplace based assessment (standard pathway).
d) Limited Registration is available to medical practitioners whose medical qualifications are from a medical school outside of Australia or New Zealand. There are four types of limited registration, granted for different purposes:
Postgraduate training or supervised practice : This type of registration is for IMGs (International Medical Graduates)  who are undertaking supervised training in Australian hospitals or other health care facilities. This is also a suitable type of registration for medical practitioners who are undertaking training so that they can sit the Australian Medical Council (AMC) examination. Medical practitioners with this type of registration must comply with the Medical Board of Australia's registration standard on limited registration for postgraduate training or supervised practice.
Area of Need: It is the most common pathway used for IMG's. These professionals have been assessed by the Board and have the skills, training and experience necessary to carry out this practice safely under supervision. For more information click here.
Public interest: It is a type of short term registration for special situations in the public interest such as natural disasters, pandemics or for an expert to demonstrate a new procedure
Teaching or research: These practitioners can undertake a limited clinical practice that is relevant to their teaching or research role.
e) Non-practising registration: This type of registration may be suitable for medical practitioners who:
have retired completely from medical practice,
are having a temporary absence from practise (for example, on maternity or paternity leave) or
who are not practising in Australia but are practising overseas.
The MBA requires IMGs to provide proof of English language proficiency for all registration categories unless it has granted an exemption. All applicants are advised to make arrangements to obtain that proof before they apply under any of the assessment pathways.
Applicants can provide a copy of a pass in the Professional Linguistic Assessment Board (PLAB). However there are some exceptions, as having studied in English-speaking countries. See details on this document .
Medical Board of Australia Registration Standards
COSTS
Application and completion of this process can cumulatively rack up to £2000.