Finances and Living Costs in Australia
TAXATION
In general, anyone earning an income in Australia is required to pay tax. All doctors in Australia will need to pay tax and will require a Tax File Number (TFN).
The amount of income tax and the tax rate you pay depends on how much you earn. The more you earn, the higher your rate of tax.
Salary packaging enables you to use pre-tax income towards benefits and reduces the amount of tax you pay, giving you increased disposable income. This is often up to 30 % of your gross wage.  The remaining 70% will be taxable. Here are the rates of tax for residents in Australia for the remaining salary after salary packaging:
Tax rates 2013 – 2014 (Australian Dollars) 

1,00 AUD = 0,56 GBP              1,00 AUD = 0,68 EUR
Exchange rates at 13/05/2014. For the current rate check here.
The above rates do not include the Medicare levy of 2 %.
Medicare Levy is the scheme by which Australian residents access to healthcare helping with 2.0% of their taxable income.
Who is affeceted? Australian residents except:
Most hospitals usually give all doctors the following benefits in addition to salary packaging:
Sick Leave – up to 10 paid days per year
Annual Leave – up to 5 weeks paid leave per year
Superannuation (pension) – It is money set aside over your working lifetime to provide for your retirement. All doctors working in Australia receive                   superannuation payments to the value of at least 9% of their salary.
Many hospitals will also provide subsidised meals, free or cheap accommodation and other perks
COST OF LIVING
The cost of living in Australia
Australia has a reputation of being an expensive country. According to a survey of the Deutche Bank is one of the most expensive in the world.
Prices vary greatly from a city to another, and in particular with regard to rural areas. We will perform a division by expenditure groups: accommodation, weekly purchase, transport and other living expenses.
Accommodation costs are high if your chosen destination is Sydney, Melbourne or Perth. An estimated cost of a single room in a shared apartment can range between 160 A$ – 250 A$ week.
The money spent on the weekly purchase can haunt  60 A$ – 160 A$.
In Sydney, a single bus ticket is worth 2.20 A$, Melbourne 5, 5 A$ and in Brisbane 5, 20 AS. An estimated price of spending a week in public transport would be from 10 A$ to 50 A$.
Regarding other living expenses, the average price of a pint of beer can be  7 A$, a packet of cigarettes about 16 A$, a month mobile phone line 30 A$, a weekly card for the  gym from 15 A$ to 20 A$, to rent a car 60 A$.
Then you can graphically see the distribution of expenditure using a statistical model of Numbeo: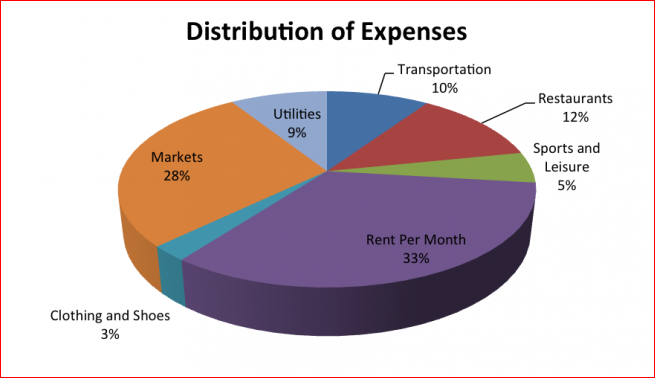 Australia is a very expensive country for tourists, but if you live there and earn Australian dollars, you may not notice the difference because of the excellent wages.
——————————————————-
Banner author: Cyron