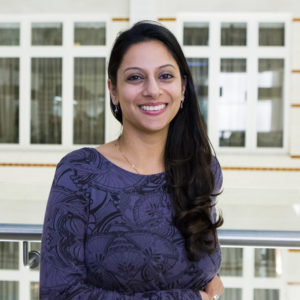 About Amrita
Amrita is a GP with a passion in occupational health, physician health and wellbeing and has a decade of experience spent working in the NHS. She is driven by a core value of 'service' to support others and finds fulfilment seeing clients accomplish their goals and become happier.
As a medic, Amrita understands the demands and emotional pressures facing doctors. Amrita understands that good communication channels are the essence of any long-lasting professional or personal relationship and works to support clients in aligning their personal and professional values with their current reality. This, combined with Amrita's drive, passion and commitment towards her clients has delivered excellent results and received outstanding feedback.
Amrita uses a combination of techniques including solutions focussed coaching, strengths based coaching and positive psychology interventions to enable clients to connect and flourish. Amrita has developed her unique skillset and experience to help clients achieve their own personal 'optimum' wellbeing through the promotion of healthier work-life practices and balance.
Amrita is a compassionate, kind, human being. Her diverse background and experience have given her a unique understanding and empathic view which helps her to offer an exemplary service to her clients. Amrita ensures that she creates a culture of psychological safety in which her clients feel free to explore and generate curious thought, empowering them to reach their optimum wellbeing.
Amrita attained a BSc (Hons) in Mathematics with Management Studies from University College London and studied medicine at Kings College London, achieving distinctions in Medical Sciences, Clinical Sciences and Clinical Practice. She also achieved post-graduate medical qualifications in DRCOG, MRCGP, DOccMed, MAcadMEd and MSc (Dist) with research in the field of posttraumatic growth.
Amrita supports and advocates for peers in her role as the Co-Chair of the Disabled Doctors Network. She has previously held the First5 Wellbeing Lead for the Royal College of General Practitioners and contributed to peer leadership and development by supporting and co-leading the London Next Generation GP Programme 2018-2020. Amrita developed a voluntary wellbeing support service for her local secondary care trust which featured coaching, friendship circles and workshops. The latter gained national attention for which Amrita has received awards from RCGP, the University of East London and recognition from Kings Foundation Trust.
Amrita's areas of special interest include: physician health, career change and alternative careers for medics, personal transitions, grief and bereavement, medic-mums.

Accreditation
Amrita received a Distinction in an MSc in Applied Positive Psychology and Coaching Psychology. She is an EMCC accredited coach to Senior Practitioner level ascribes to their Code of Ethics.

Offering
Amrita is pleased to offer a complimentary 30 minute 'chemistry call' to see whether her coaching services are a good fit for your needs.
She offers both one off sessions as well as blocks of 3 or 6 sessions.
Amrita also provides wellbeing workshops on a range of subjects for GPs, companies and students.
Please note that all services are currently offered via Zoom.
Resources
Amrita invites you to check out her range of free resources on her website in the form of podcasts and webinars.

Testimonials
Ami has a lovely energy while she coaches – she creates a safe and supportive space where I felt able to share and be held. Ami is supportive and kind. I'd be happy for her to work with my friends and family and would recommend her.
Amrita put me at ease straight away as I was completely new to coaching. She was extremely professional at all times and really listened to me. She showed great empathy for my situation without losing sight of my session goals. Amrita made me feel really listened to and unjudged. She has a great knack for helping me see situations from a different perspective. I have found the process really useful and have achieved much more working with Amrita than I would have just trying things on my own. I highly recommend her as a coach and will be working with her again in the future.
Our coaching sessions have been extremely beneficial for me. You have very effective interpersonal skills which allowed me to speak freely as I would to an industry expert. Your ability to listen and recall paid real dividends as we seemed to get to the root of the issues and clarified goals quite quickly. Being a very logical and methodical thinker I was unsure how much progress could be made, but I must say I was very pleasantly surprised at the clarity gained during our sessions and steps taken to bring my goals into reach.  I would like to say a big 'thank you so much' for your time.
Although she has only been my coach for a short time she has already been a great help, and is kind and supportive. Ami is easy to talk to and non-judgemental, about both career and personal difficulties. I would highly recommend her services.
Put simply, Ami's coaching gets you where you want to go.  Her style is a blend of insight, empathy and challenge, always within a safe space that leaves you free to peel away the layers and get to that solution that has, up to that point, eluded you.  If you are facing blockages, feeling stuck, or just a little bit adrift, I can wholeheartedly recommend Ami as a coach who will help you to solve whatever it is that is holding you back.