Alternative Careers and Wellbeing Event – A Medic Footprints Prescription
Thank you to everyone that came to our Alternative Careers and Wellbeing Event on 31st October. It was wonderful for…
Thank you to everyone that came to our Alternative Careers and Wellbeing Event on 31st October. It was wonderful for Abeyna and myself to see our hard work paying off, with so many doctors there to seek advice, inspiration, support and of course ideas for other career options.
Our intention is not to encourage doctors to leave the NHS – that is an option for some, but for others maybe they would just like to explore things that they can do alongside their day job.
Our aim was to provide something for everyone! Not everyone wants to go into another structured corporate environment for example, some may want to do something a bit more creative/ alternative medicine focussed; and some may just want to practice medicine in a completely different environment (this alone can sometime be enough to reignite someone's passion for medicine).
For that reason, we tried to offer a range of talks (we appreciate that not everyone made it to everything they wanted, maybe next year!)
OUR TALKS
A round up of talks going on in the main room (we will be releasing video clips of these talks, so watch our Facebook page and website for updates on this!):
Do I really want to leave medicine?
This is a difficult decision for any doctor and a lot of emotions come into play here. Sometimes, a decision to leave is not based on any logic, it is merely a feeling.
Doctor's Mental Health in the Workplace
Thanks for the input from all of our speakers. Mental health is often swept under the carpet but it is something extremely important to the future of the NHS and that is why we feel it is extremely important that wellbeing is at the forefront of the agenda.
How Psychotherapy made me conscious
A talk by Dr David Perl who specialises in providing Leadership Management to Executives. I have selected a brilliant quote that he used from Carl Jung: "There is no coming to consciousness without pain". You can use that chaos to better your life.
The Fascinating World of Occupational Medicine
An interesting and less well known field of medicine! Thank you Dr Richard Peters. Using your medical skills to advise corporations on their employee health issues. You can still practice medicine but this is an example of doing it in a completely different environment, something Dr Abeyna Jones knows about!
From Boom to Bust & Back – A Cautionary Tale
Dr Charlie Easmon – a very charismatic speaker took us through his business career trajectory. Essentially, failure is part of success. As long as we learn from our failures, we can come back stronger than ever.
The Many Faces of Leadership
Think you have to leave the NHS to pursue your own business idea? Not necessarily! You can always develop a side business and then the decision on whether to leave is your own choice!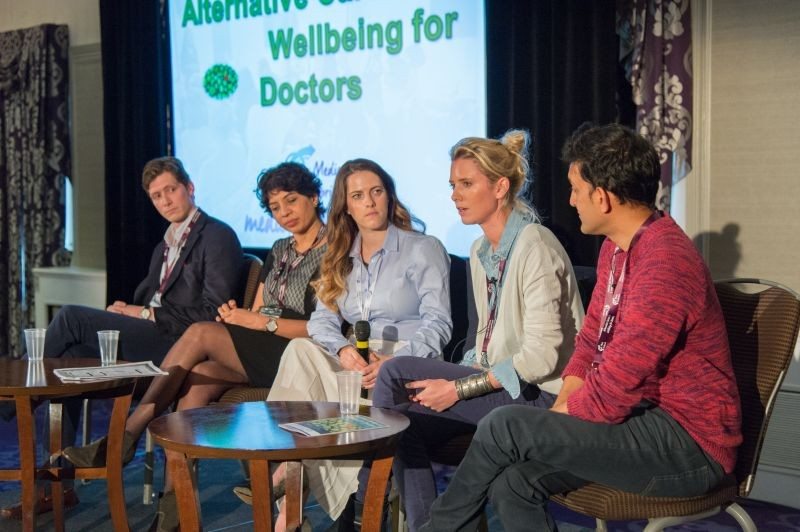 How I set up a Philanthropic Organisation
An inspiring story from Na'eem Ahmad on how he set up his own philanthropic organisation Selfless.
A Career in The Army
A talk from Robert Poole on how he came to work for the Army, what kind of people they look for and the benefits of working for them.
How to get into Management Consultancy
A solid career choice for doctors but often people have no idea how to go about getting into it. That's why we felt it would be useful for our panellists to talk about their practical experiences – warts and all!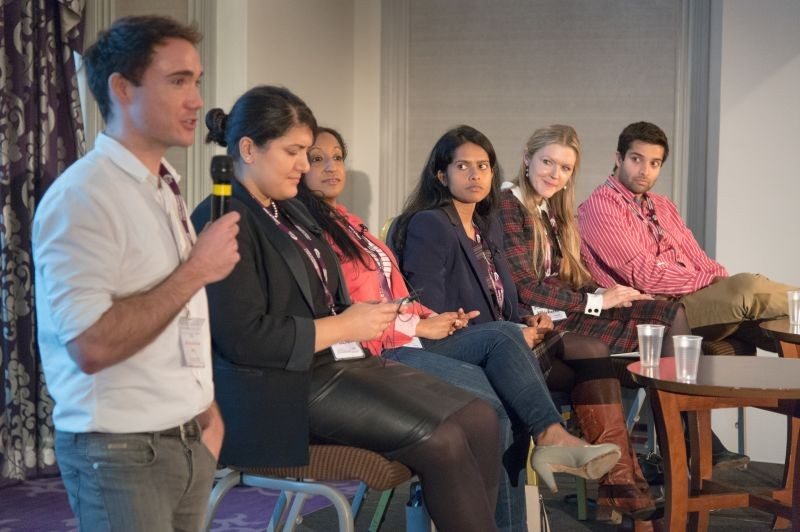 OTHER TALKS
We will be writing blogs on some of the other smaller seminars and workshops that went on, so that you don't miss out!
Our very popular CV Workshop, check out our blog write up on this.
A Career in Medico-Legal, from our legal eagle Thom Petty.
Plus a range of wellbeing focussed activities – acupuncture, meditation and yoga.
YOUR FEEDBACK
Your feedback really is important to us, so in response to some of the main points raised.
Venue specific problems: People getting lost/seminar rooms too small
Next year, we will endeavour to put everything on two floors, with everything contained in a few rooms making it a lot easier for you to navigate your way around. We will also have a bigger seminar room.
More/Greater variety of exhibitors
Next year, we will be attempting to increase the variety of exhibitors open to you so that you can get a great overview of the options that are out there (we love a challenge at Medic Footprints!)
Unable to go to all the talks you wanted
We will aim to put on a similar amount of talks next year, with different things going on in different rooms. Unfortunately, this means you will miss out on certain things but we'd rather give you more options than less! We will aim to be as flexible as possible and you will be able to wonder between rooms (within reason!) as long as it does not cause too much disruption.
Mentor scheme
Opinions on this were varying but in general, it seems that it was a popular idea. It was simply a meet and greet with the chance to take things forward if agreeable to both parties. To alleviate confusion on the role of the mentor next year, we will make efforts to brief all of our mentors in advance.
Too many emails before the event
As I'm sure you'll appreciate, some people thought that they did not get enough information about the event and were emailing us to ask! It is hard to get the balance right but we try to only send purposeful, informative emails. It is in your interests to read them!
NEXT STEPS FOR MEDIC FOOTPRINTS
We will continue to put on our monthly networking events and workshops, plus we will keep you informed about relevant events for you that we are involved with.
We will be expanding our online offering, bringing you discounts on relevant courses, products and services for doctors; to help you expand your career options and look after your wellbeing.
We will be building up our jobs board of relevant alternative careers for doctors.
We will be offering a tailored recruitment referral services (at no cost to the Candidate), helping you to find relevant jobs for you – please enquire via our Contact form.
We offer Consultancy services on CV's and non-medical interview skills.
Our next Alternative Careers and Wellbeing Event will be bigger and better than ever! Put 1st October 2016 in your diary.
Happy Holidays Everyone!
The following two tabs change content below.

Sara Sabin
With a solid corporate background, Sara specialises in advising doctors in how to prepare a non-medical CV and how to prepare for a non-medical interview. She is also the Co-Founder of Medic Footprints.

Latest posts by Sara Sabin (see all)