A Career in Sport and Exercise Medicine
Everything you need to know about a career in sport and exercise medicine, from pros and cons to ways of launching your career!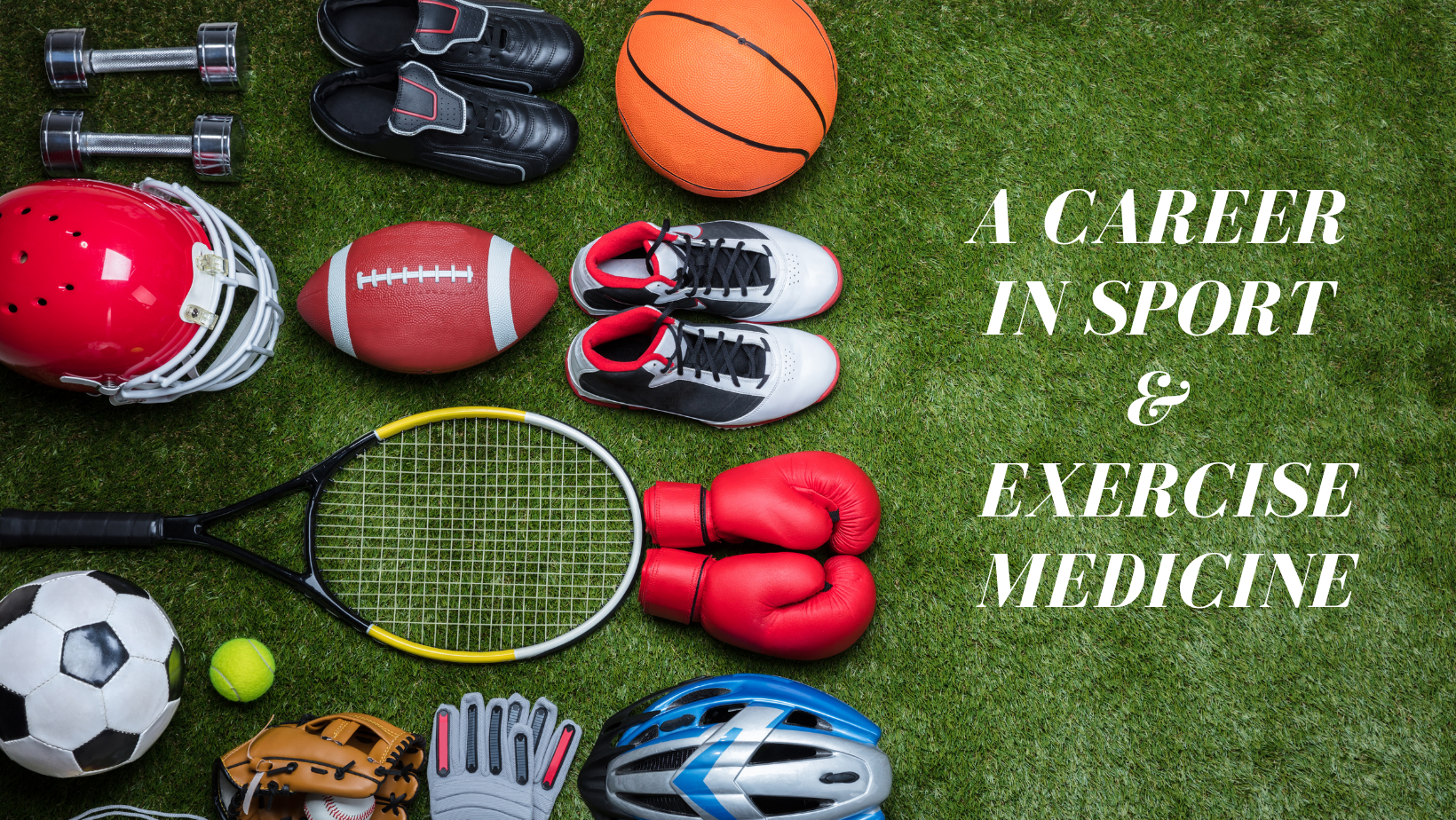 Hear first hand from a Sport and Exercise Medicine (SEM) physician about everything you need to know about developing a career in SEM!
What is Sport and Exercise Medicine?
In the UK known as SEM, this is a relatively new medical field. It became a GMC-recognised speciality in 2005, in the run up to the 2012 London Olympics. A need developed for a special breed of doctors to manage and treat sporting injuries was recognised. The core mission of SEM is therefore the management of medical problems and injuries in those who participate in physical activity and sport. However, the clinical relevance and application of SEM goes far beyond treating athletes.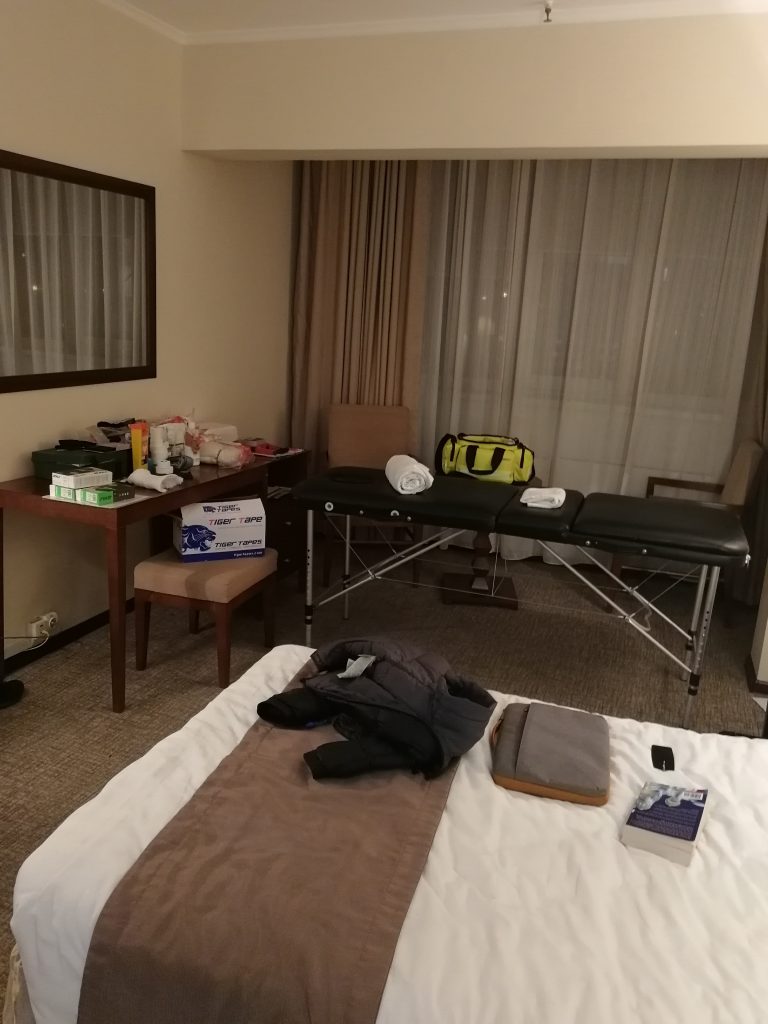 What does a career in SEM involve?
In being such a new speciality, SEM lends itself to diverse career opportunities as well as challenges. Most SEM consultants have a portfolio career, usually undertaking 2-4 part-time roles. Full-time positions are the exception. In a sense this prevents SEM physicians from experiencing the full spectrum of clinical opportunities within SEM.
Strong emphasis on MSK medicine
The core clinical activity of SEM physicians is the diagnosis and management of sport-related injuries and non-traumatic musculoskeletal problems.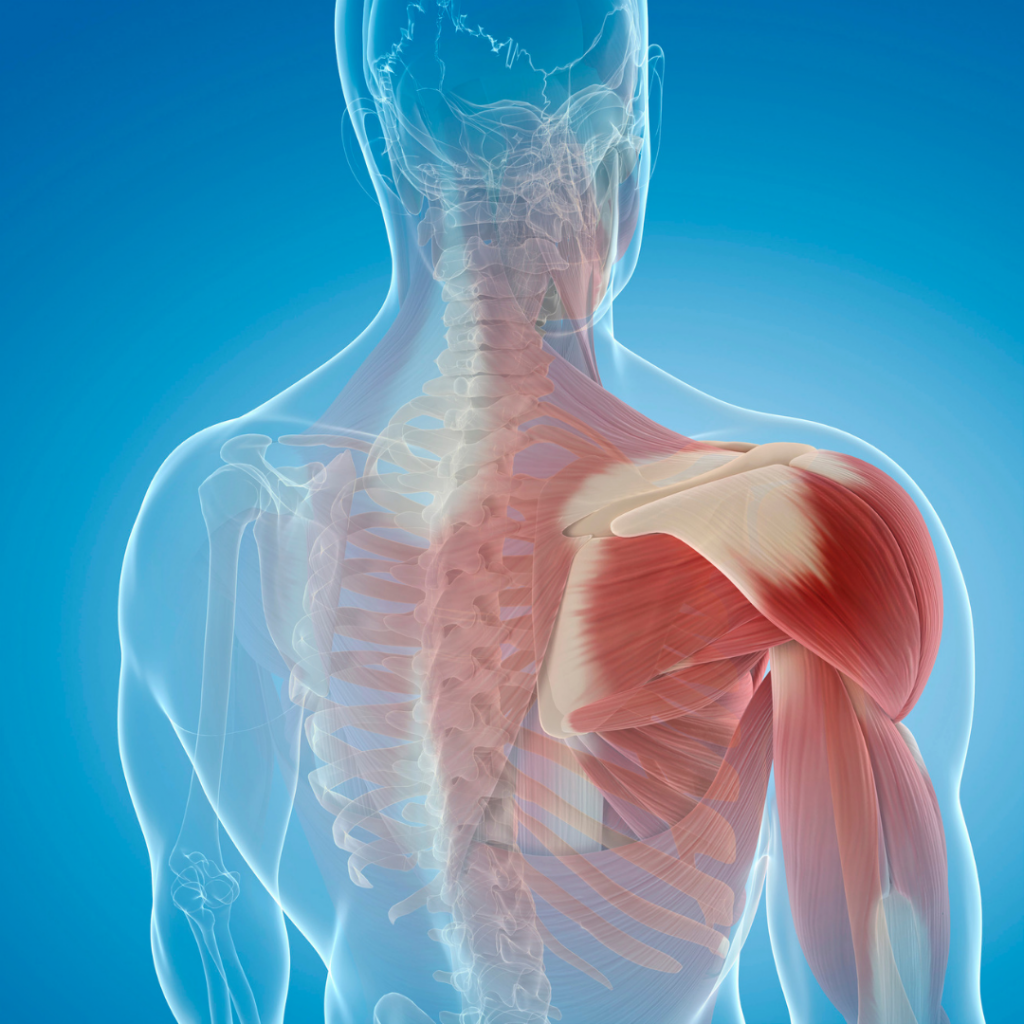 Musculoskeletal (MSK) medicine is in fact a major component of SEM training, such as joint, tendon, muscle and ligamentous disorders in children and adults. But also non-rheumatological MSK pain and orthopaedic conditions that do not require surgery. The strong emphasis on MSK medicine helps SEM embrace new technologies. For instance, many SEM physicians are trained in diagnostic ultrasound (US) and perform many cutting-edge interventions. These include US-guided joint injections, prolotherapy (i.e. sclerotherapy for ligament laxity/injuries) and platelet-rich plasma (PRP) injections for tendinopathy and osteoarthritis.
Health promotion and prevention driven
The exercise medicine component of SEM transcends many different specialities, especially as health services move away from being "illness-based" and pivot toward "health promotion and prevention". Therefore, SEM consultants have a key role in exercise prescription and promotion to address the mounting burden of chronic disease. This is done both in a patient-facing capacity, but also engaging with public health campaigns.
Roles and Jobs for SEM physicians
NHS
Many SEM consultants have part-time positions in the NHS. There are not many substantial posts nationwide, and in contrast with other specialities, SEM consultants often have to create their own NHS position. Typically this is achieved by networking and working closely with hospital managers, commissioners and established SEM consultants.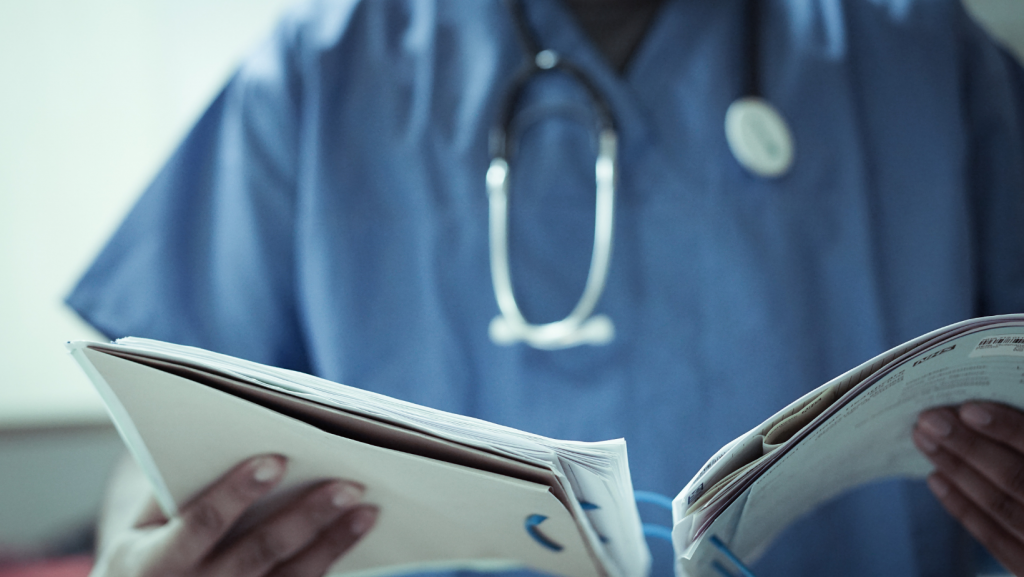 NHS jobs in SEM are either community-based, for instance leading a primary care MSK service or hospital-based. Hospital-based work includes work in secondary care MSK clinics, sport injury clinics, pain clinics or other specialist services (e.g. supporting a diabetic, obesity or women's health clinic). Some SEM consultants have a strong interest in MSK trauma or head injuries, and may be based in an A&E injury unit.
Private Practice
The huge burden of MSK illness in the general population, the increasing popularity of amateur sporting activities and the long waiting lists for NHS treatment, provide ample scope for SEM consultants to work privately. SEM is recognised by most private insurers and consultants work either independently or within established sport medicine clinics. The scope of practice is similar to that of NHS-based employment. However, there is wider scope to provide treatments such as PRP, prolotherapy, viscosupplementation and shockwave therapy, which are not widely available on the NHS.
Club Doctor
One of the privileges of being an SEM physician is working with elite athletes. Most SEM consultants have a role in professional team sport providing comprehensive medical care to players. This encompasses the whole clinical spectrum and not only injury management. Ongoing management of chronic medical conditions or troubleshooting of problems normally seen by a GP, are all part of the job. Most club doctors have part-time positions, with a select few on full-time contracts with the larger Premier League football clubs and Premiership rugby clubs.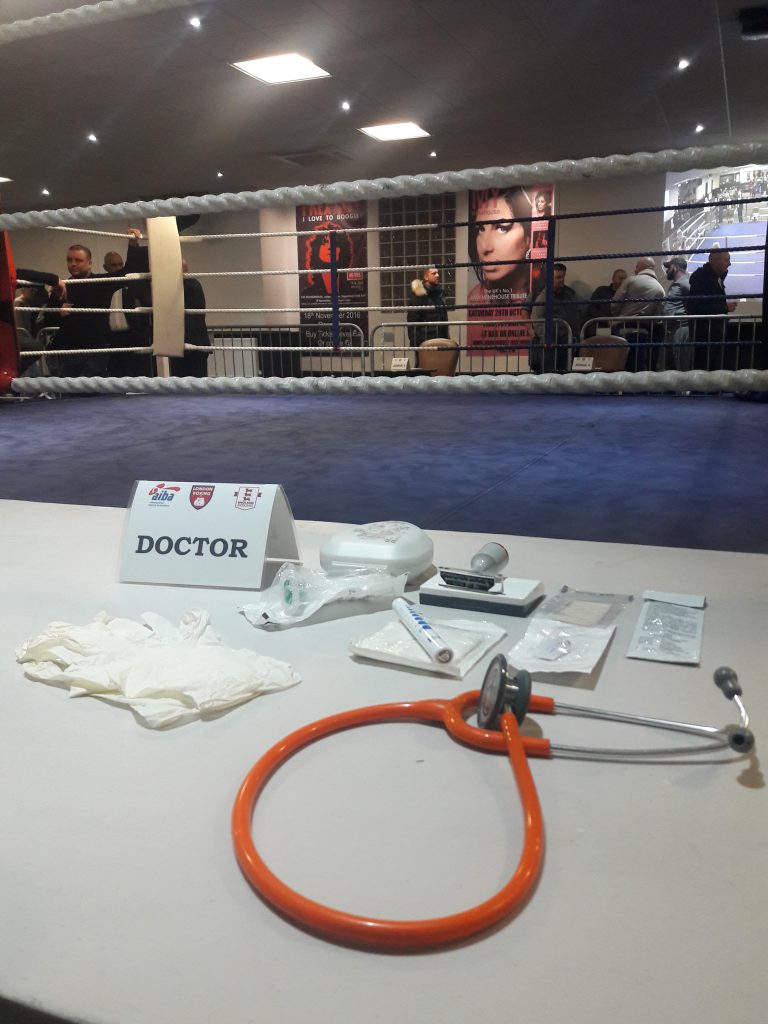 English Institute of Sport (EIS)
From a number of centres in the UK the EIS provides medical services to the Olympic and Para-Olympic athletes of all GB teams. Most SEM consultants have part-time chief medical officer (CMO) positions within 1-2 disciplines (e.g. GB swimming, GB Gymnastics, GB Hockey, etc.). The roles provide opportunities for extensive travel, with the team doctor often travelling with the team to national and international sporting events, including Olympics and Para-Olympics.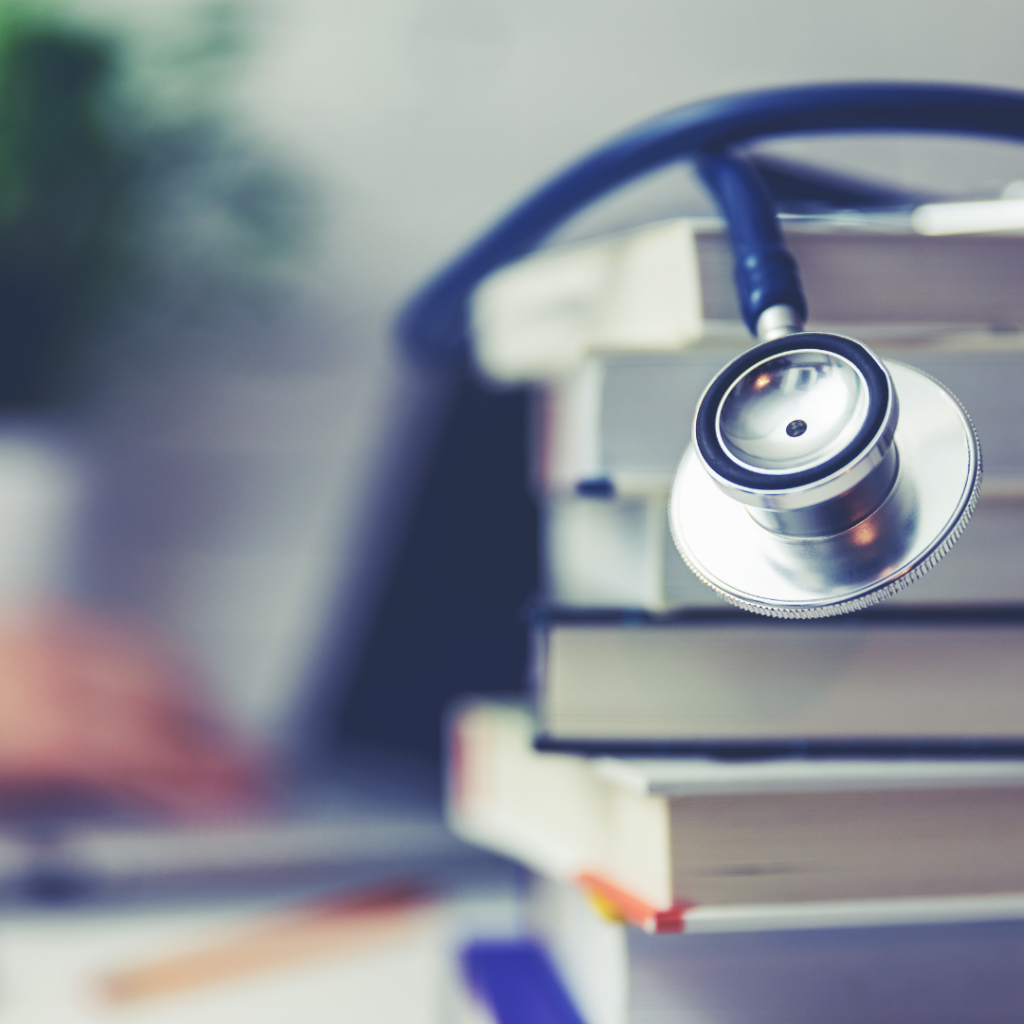 Academia
SEM consultants that are academically inclined can find PhD, lecturing or research positions within a number of sport medicine research units. Examples include the Institute of Sport, Exercise & Health (ISEH) in London and the National Centre for Sport & Exercise Medicine (NCSEM) in Loughborough.
Military
The Defence Medical Services (DMS) within the Ministry of Defence (MoD) is the single biggest employer of SEM consultants in the UK. With a combination of part-time and full-time positions, SEM consultants are based across different regional rehabilitation units (RRUs). Here they provide specialist sport and MSK rehabilitation services to military personnel in a multidisciplinary environment. Although there are a number of military-trained SEM consultants, most positions are filled with civilian SEM physicians.
Why should I consider a career in SEM?
SEM is a great speciality for those with broad-based clinical interests that enjoy working independently or as part of a close-knit team.
Stand-out benefits of being an SEM physician include:
Variety
SEM physicians treat patients of all ages, from adolescents starting a new sport to older adults engaging in physical activity. Therefore, the array of conditions and pathology seen is vast. Patients do not only present with MSK injuries, but often require optimisation of a medical condition through exercise prescription and lifestyle advice. This demands a good balance between the broad-based knowledge of a generalist and the expertise of a specialist.
Flexibility
As there are few full-time jobs in SEM, the speciality lends itself to a portfolio career where each practitioner is fully in charge of their schedule.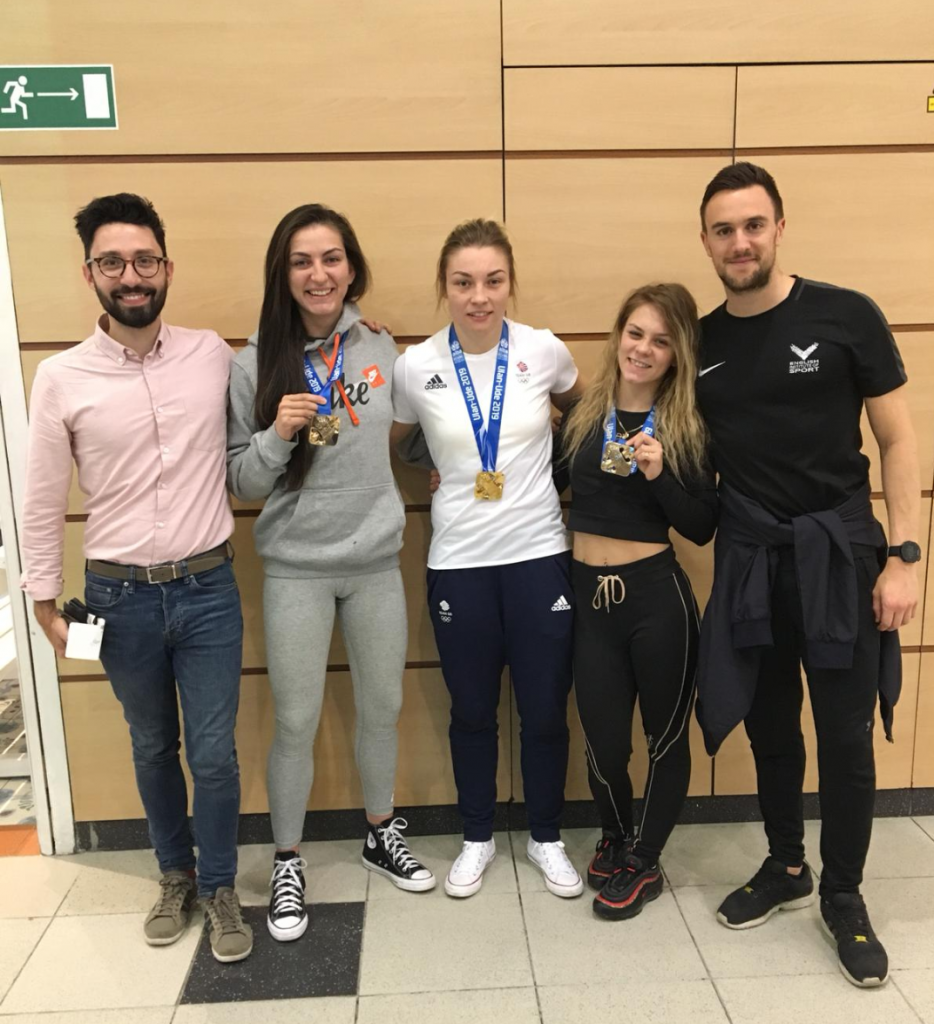 Athletic and young population
SEM physicians see a high proportion of young and active individuals, for both injury management and guidance on returning to sport. Working with a motivated group of patients with clear goals can be challenging as well as rewarding.
Minor procedures
The bread and butter of SEM is MSK medicine. There is therefore huge scope to develop interventional skills with shockwave therapy and US-guided interventions, such as injections, PRP, prolotherapy and novel bioregenerative techniques.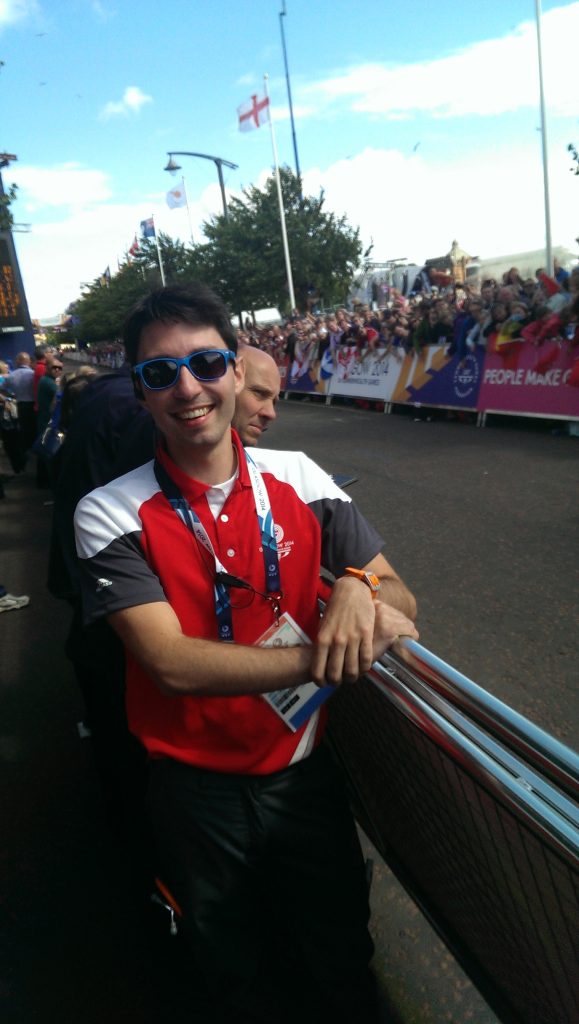 Elite sport
Most professional clubs and Olympic teams now require their doctors to be on the SEM specialist register. There are therefore unique opportunities to work with elite and professional athletes across all disciplines.
Travel
SEM physicians based within a team/club are frequently required to travel with the athletes. This can be for a match, training camp or a large event like an European Championship or Olympic tournament.
Jobs across public, private and military sectors
Job opportunities in SEM are found in all sort of environments, from NHS and military consultant posts to private sports clinics and professional clubs. This gives SEM physicians a wide variety of options and choices.
Business Development
For those who are entrepreneurially minded, there is scope to set up your own clinic or company. This is a competitive field, but the speciality is young enough to accommodate newcomers with novel ideas.
Income
With the possibility to work privately and perform interventions, there is ample room to boost one's income. This takes time, a lot of promotion and networking.
Why should I not consider a career in SEM?
There are a few reasons why SEM may not be the best career choice for some:
Routine
The lack of widespread full-time positions means SEM physicians work in different places at anyone's time. This inevitably translates into no 9-5 Monday-Friday routine for most.
No well-beaten track
Being a new speciality means there are not many established positions to apply for. Therefore, newly-qualified SEM physicians have to plot their own career independently. This often means extensive networking as a trainee and offering services for free in order to gain experience.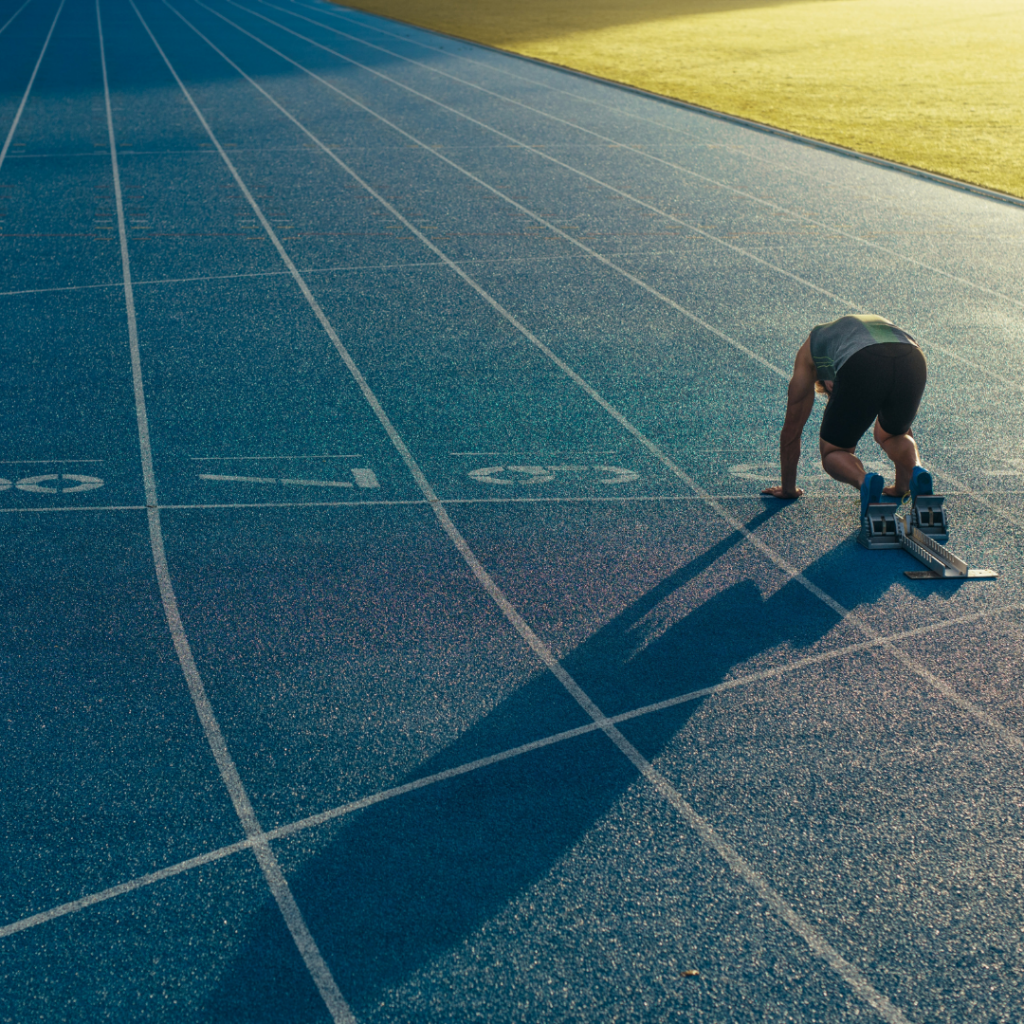 Job security
Jobs in elite sport are generally well-remunerated, but with not much job security. Many professional teams or clubs can dismiss their doctor with little fanfare, either due to a change in the management, financial hardship or not fitting in the team.
Travel
The travel commitments required of a team doctor can be exciting. But at the same time it can be a drain on personal, family and social life for some. Especially for those not prepared for the, sometimes long, periods away from home.
Indemnity
Working with elite athletes comes with a premium with regards to medical indemnity. The stakes when something goes wrong are high, and doctors can be sued by players, clubs and third parties, which is reflected in the fees charged by insurers.
What do I need to get into SEM?
SEM is a medical speciality and training is managed as a 4-year programme by the Joint Royal Colleges of Physicians Training Board (JRCPTB). Entry is at ST3 level and there are between 8-12 posts nationally each year.
There are 3 routes into the speciality (Fig.1):
Medicine: after completing core medical training (CMT) with MRCP (3 years)
Emergency Medicine: after completing ACCS with MCEM/MRCP (3 years)
General practice: after completing GP training with MRCGP (3 years)
In addition, successful candidates have an array of extra-curricular activities to show their commitment to the speciality.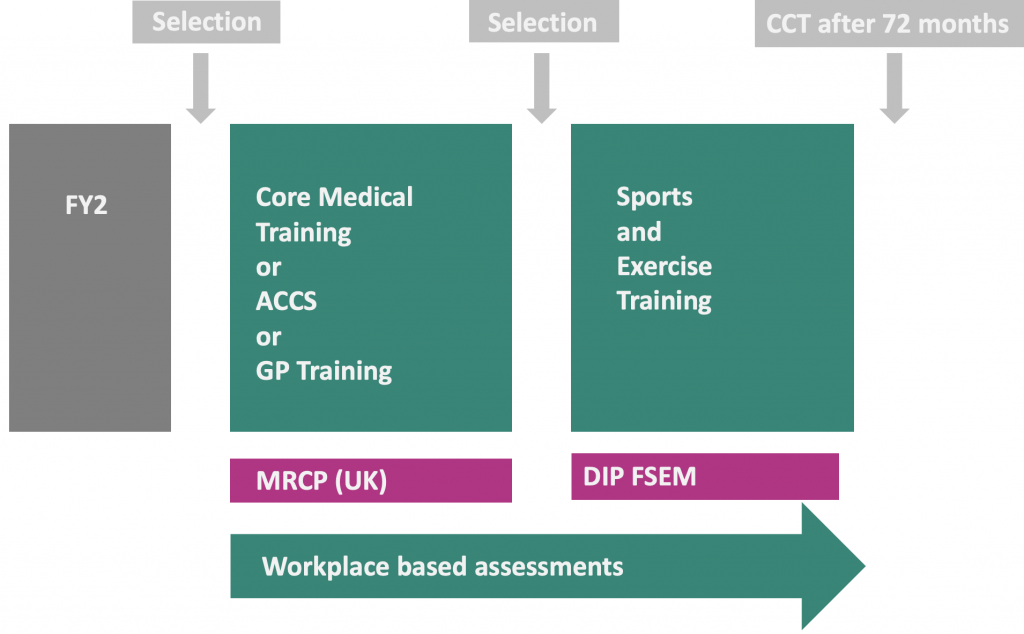 Figure.1 – SEM training pathway
How can I boost my chances of establishing a career in SEM?
The key to securing a training number in SEM are experience, experience and experience! The best way would be to gain as much relevant experience as possible during CMT/ACCS/GP training. This needs to highlight commitment to the speciality but also your understanding of the wider role of SEM physicians. For instance, it is useful to provide pitch-side support to your local amateur/professional clubs or medical cover during mass sporting events (e.g. marathon, triathlons, charity runs etc.).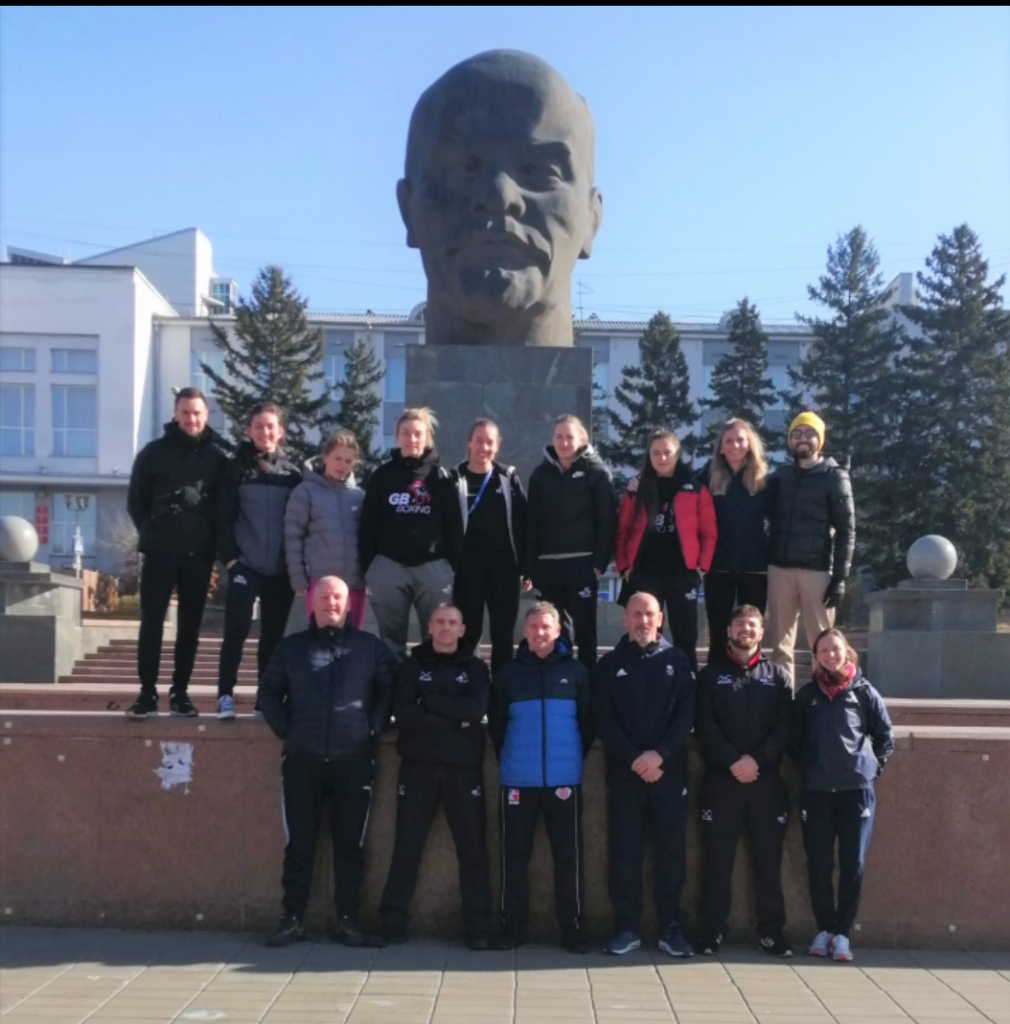 However, SEM is not just sport-based activities. In fact, it is important to explore its role in both primary and secondary care. This could be a placement in a community-based MSK clinic, an audit on exercise interventions in your hospital or leading a quality-improvement project to promote physical activity in a specific patient population (e.g. children or adults with diabetes or heart problems).
Further resources on spot and exercise medicine
FSEM is based within the Royal College of Surgeons of Edinburgh and sets the membership exam (MFSEM) that must be completed in order to gain entry onto the specialist register. The exam involves a written paper and an OSCE, and it is usually taken between ST3 and ST5.
BASEM is a useful resource for SEM physicians. Membership provides access to eLearning resources, BJSM, research grants and fellowships. It also hosts 2 conferences a year in the UK.
The JRCPTB manages ST3 recruitment and the ePortofolio for SEM registrars
The RFU hosts a pitch-side trauma course (PHICIS level 3) throughout the year, which is often an essential requirement to provide medical cover during a sporting event.
The FA provides an alternative to the RFU's PHICIS, which is typically required to cover football games
---
Did we spark your interest? Maybe you want to find out about Manual Medicine or check out some of the many other career guides on our website.
The following two tabs change content below.
Matteo Bernardotto
Dr Matteo Bernardotto is a consultant in Sport & Musculoskeletal Medicine at the Royal London Hospital for Integrated Medicine (RLHIM), as well as a fully qualified GP and osteopath. He completed the LCOM course in 2019 and integrates osteopathy and manual medicine in his clinical practice. He is also the lead academy doctor at Fulham FC and medical officer for England & GB Boxing.
Latest posts by Matteo Bernardotto (see all)