They're trail blazing and making a difference beyond the clinical front! We present a list of medics who challenge the status quo by positively utilising their broad skillsets beyond medicine to embark on successful complementary alternative careers.
They're headed for greatness in 2016!
1. JOHANN MALAWANA
Now chairing the BMA Junior Doctors Committee and the heavily publicised contract negotiations, Johann stepped up in medicopolitics when his predecessors stepped down earlier this year during the furore in response to Jeremy Hunt's plans for contract impositions. He still continues to work in O&G, but clearly has a passion and drive to fairly represent every junior doctor in the UK. No pressure then..
Will junior doctors ever get a 'fair' deal? Lets see what happens in January 2016 when the temporary freeze on industrial action ends…
2. JAMES GUPTA & OMAIR VALYANI
James and Omair, 4th year medical students at Leeds University, overshot their target of £180,000 raised on Crowdcube to fund innovative exam revision app; Synap. Pretty much every medical student / professional will be thanking them in years to come with their tag line "Learn more in less time".
3. COSIMA GRETTON
Another health tech guru in the early stages of her career, Cosima is an Academic Foundation Years Doctor in London who has years of experience behind her in psychology, neuroscience and healthcare tech consulting. She's been involved in several startups including running her own business AXNS Collective. I'm sure we'll see plenty more of Cosima's outputs in 2016.
4. SUMAN SAHA AND STEPHANIE ELTZ
From brainstorming on walls to investment rounds and a fully functioning startup in a mere 8 months, Stephanie and Suman are Orthopaedic trainees who co-founded Doctify; the 'Uber' for finding healthcare professionals in the UK at your 'app'-etising convenience.
They've truly translated their vision into reality with the support of a very understanding Training Programme Director (!) Growth and media coverage aside, they're about to take healthcare to another level now they're in talks of collaborating with the NHS.
5. PHIL HAMMOND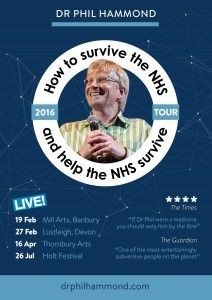 KCL alumnus Phil Hammond is a well known media personality and comedian whose uncompromising wit has secured him a place as a well known physician in the UK. Next year he's off on tour; "How to Survive the NHS.. and how to help the NHS Survive"; I'm sure it's certainly worth watching for those passionate about working in the NHS!
6. EMMA STANTON
One should always be watching Emma Stanton who is currently an Honorary Consultant Psychiatrist at South London and the Maudsley. Emma boasts a range of diverse acolades under her belt from association with the Royal Society of Arts, to Kings Fund, to TED talker, CEO of Beacon Health UK and more. Emma's career path fights the status quo, yet she has received recognition as HSJ's most inspirational women in health and also one of the HSJ Top Innovators in the NHS. Her linkedin profile is one of the few ways to discover what she's up to next!
7. FARAH JAMEEL
Farah personifies strong medical leadership as a GP with a background of medicopolitical activism for Women in Medicine and Diversity in Leadership. She currently holds the position of Deputy Chair of the Equality and Inclusion Committee at the BMA. Her positive influence over time will hopefully be the catalyst for ongoing discussions surrounding the desperate need for an inclusive and diverse culture in the BMA, NHS and beyond. She has been listed as one of the top influential GPs two years in a row at PULSE.
8. JUNIOR DOCTORS NATIONWIDE
The sheer size of social media forums surrounding the JDC say enough. Will there be enough momentum to curtail an unfair imposition of contract for junior doctors? Watch this space!
9. NA'EEM AHMED
Na'eem brought many people to tears during his touching account at ourACW event in October 2015 on how he set up Selfless; a philanthropic organisation which has won him recognition by the prime minister David Cameron, and media coverage on the London Underground. Na'eem comes across as extremely humble, yet manages to continue as the CEO of Selfless whilst training in Radiology. Utilising social enterprise to innovate in healthcare (& healthcare tech), keep an eye on what Na'eem has to offer in 2016!
10. YOU?
With change comes great opportunity; and noticeably there are an increasing number of medics who are jumping off the treadmill into unchartered territory, in favour of a bespoke career. What do you have in store for 2016?
Let us know!
---
If you feel there is anyone who deserves a mention on this list, please comment below!